FSU football is officially back, for one day that is. The Seminoles would take the field on Saturday for the annual spring game, pitting Team Garnet vs. Team Gold. The game would show what improvements are left to make heading into the 2017 football season.
Perfect weather for a 3 pm kickoff! ESPN pic.twitter.com/oYsIvESWo2

— FSU Football EQ (@FSUFootballEQ) April 8, 2017
Who to Watch For
One story from this game would be the summer of senior LB Jacob Pugh. Pugh is playing his last season for the Seminoles and plans to make it his best season.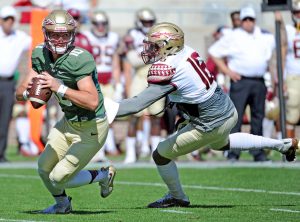 In an interview with Seminoles.com, FSU head coach Jimbo Fisher describes this spring as "the best spring  of anybody we've ever had", and Pugh would confirm that notion. At halftime of the game, he would receive the defensive MVP award, as well as the Hinesman Award. The Hinesman is an award that is presented to the most dominant player of spring camp. Pugh joins Jalen Ramsey and Jameis Winston as recent winners of the Hinesman to come from FSU. Pugh recorded three tackles – including two stops, one sack and a QB hurry-up for Team Gold.
Another big story to come out of this year would be the impact of Dalvin Cook leaving for the NFL. Two players were ready to show that Cook leaving FSU would not affect the team at all. True freshman RB Cam Akers and junior RB Jacques Patrick would send that message loud and clear.
Akers would get 87 yards on 10 total carries, as well as catch two passes for 15 yards. Patrick would also have his fair share of success, recording 62 yards on 12 carries and scoring one touchdown for his team. They sent the message that the running game at FSU is anything but doomed.
Patrick feels he matured behind Cook and looks to use the blueprint Cook gave him for success in the 2017 season.
Spring Game Highlights
The annual spring game featured many highlights and a glimpse for what's to come in the upcoming season for Florida State. One highlight player for the team would be QB Deondre Francois. He would throw for 133 yards, including a 90-yard bomb in the second quarter and two touchdowns on the day for Team Gold.
The big highlight to come from Tallahassee would be the defensive effort in the game. One player who is responsible for making waves is returning sophomore DB Derwin James. Coming off a season-ending injury in 2016, he showed that rust was no factor in his performance.
So yeah, Derwin James is back… that hit had to hurt…

— Nick McGahee (@WestGeorgiaNole) April 8, 2017
James would record a team-leading seven tackles, three of those for lost yardage and two total sacks. In a time of year where Fisher likes his defense to be ahead of the offense, he certainly must be happy with the return of James in his defensive unit. The defensive unit would total 12 sacks, 19 tackles and a pick-six, making it the biggest highlight in the spring game.
After the defensive showcase and the running game leaving no doubt, Team Gold would emerge from this game with a 17-7 victory, getting the team and fans prepared for what's to come from the team in the coming season.
FINAL! Gold beats Garnet! pic.twitter.com/EAHgTZ3JT7

— FSU Football (@FSU_Football) April 8, 2017
The victory and game would answer any questions as far as the team's mentality going into a difficult 2017 campaign. The Seminoles hope to have more success in 2017 than in 2016, with their eyes on the national championship staying in the ACC.
Football Season Outlook
The Seminoles look ahead to a tough 2017 schedule, beginning their season with a road game against Alabama on Sept. 2. They face old rivals Clemson and Florida on the road, while hosting Louisville and Miami in Tallahassee, to name a few.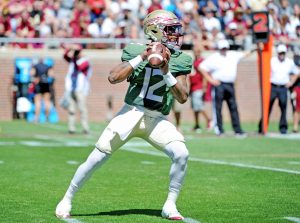 Although they face a tough schedule in 2017, their goal is to be not only ACC Champions, but bring the National Championship to Tallahassee. For that to happen, they first have to make it to Atlanta and the brand-new Mercedes-Benz Stadium for the title game.
For more updates on the FSU Seminoles, follow the team's Twitter, as well as sticking here to ESPN Gainesville for more updates as they come.