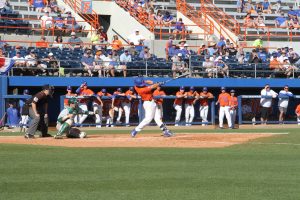 Tonight Florida baseball faces the University of North Florida in a solo contest as they look to build upon their offensive explosion last weekend against the Vanderbilt Commodores.
Both Vanderbilt and Florida went into the series 7-7 in Conference play. The 20-8 victory Saturday afternoon placed the Gators second in the SEC East standings behind Kentucky (25-12, 10-5 SEC).
The weekend in Nashville also gave the Gators some offensive confidence. Florida had a .434 batting average on Saturday. The team finished the weekend batting .342 on the series and a whopping 40 hits, half of them on Saturday.
UNF is also coming off a big weekend series win after sweeping NJIT. The Ospreys' are undefeated in weekend series'. UNF finished the weekend batting .427 against NJIT with 31 RBIs.
Leading the teams
Freshman Austin Langworthy has been missed in Florida's lineup due to a broken hand and came out last week right where he had left off. He was named freshman SEC of the week last week after his impressive performances. Langworthy finished the weekend hitting .412, going 7-17 at the plate and leading the team with five RBI. Langworthy also returned to the mound for the Gators last week in their mid-week game against Florida State pitching 2.2 innings allowing two runs on three hits in their 10-7 win.
Senior Ryan Larson leads the team batting .367 on the season with three home runs. JJ Schwarz, Dalton Guthrie and Nelson Maldonado all finished the weekend series hitting a home run with Guthrie smacking two on Saturday's win.
Senior second baseman Patrick Ervin leads UNF hitting .361 on the season and batted a .333 average for the weekend series. Junior Yahir Gurrola leads the Osprys with 40 RBIs.
Series History
UNF (26-13, 7-2) was defeated last season in a home-and-home series against Florida while the Gators lead the overall series 10-6.
It's #gameday and we're back at the Mac tonight!

First pitch at 6:30 p.m. vs @OspreyBSB pic.twitter.com/dawbV10ZDa

— Gators Baseball (@GatorsBB) April 18, 2017
Tonight
The Gators will be starting freshman right handed pitcher Nate Brown (3.55 ERA) and the Ospreys will start left handed senior Tyler DuPont (5.00 ERA).
The first pitch is at 6:30 p.m. at McKethan Stadium.