Chelsea moved seven points clear at the top of the Premier League with a 4-2 win over Southampton at Stamford Bridge. Goals from Eden Hazard, Gary Cahill and Diego Costa saw The Blues pick up their 14th home win of the league. Second-place Tottenham play their extra game on Wednesday against Crystal Palace.
Lineups:
Southampton brought in Boufal for Redmond while Chelsea started Fabregas, Costa, Hazard and Cahill after resting them against Tottenham.
Play-by-Play:
First Half:
It took Chelsea just five minutes to break the deadlock through a quick counter. A freekick for Southampton near the halfway line saw the ball looped into the box and headed goalward by James Ward Prowse.
The header was smothered by Courtois who started the counter. Fabregas found himself with the ball near the center circle and played the ball through for Diego Costa toward the right corner of the box. After taking a few touches down the right side of the box, Costa played the ball into the middle for an unmarked Eden Hazard to power home, low to Forster's right.
Fabregas -> Costa -> Hazard = Goal!

Great goal, 1-0 to Chelsea! #cfc pic.twitter.com/PWlVmnin0c

— ChelseaTalk (@CheIseaTalk) April 25, 2017
Drawing Level
The game then settled into even spells of possession with Chelsea unable to find the final pass while Southampton were unable to make their midfield domination count for an equalizer. Hazard had a good chance to double his tally in the 18th minute when Fabregas intercepted a pass on the right wing deep in Southampton's half. He passed it to Costa who laid it off for Hazard in a slightly harder position than the first goal but the Belgian blasted his shot over.
Southampton were able to find an equalizer six minutes later from a corner after some poor defending from Chelsea. Ward Prowse's corner took a deflection off Azpilicueta and found an unmarked Gabbiadini at the far post. The Italian had plenty of time to play it back to an open Romeu in the middle of the 6-yard box to tap home and make it 1-1.
GOAL! Oriol Romeu in the right place at the right time! 1-1! ⚽️#CHESOU #Romeu pic.twitter.com/bMFvLnQb9T

— Rush Football (@RushFootball_) April 25, 2017
This buoyed the Saints who started to play with a little bit more confidence in an attempt to hold their ground and prevent Chelsea from going ahead. Their main threat was through set pieces as Chelsea could not get their man-marking right. A freekick for Southampton in the 33rd minute near the touchline nearly led to a goal when Ward-Prowse whizzed it across goal but Courtois punched it clear.
Retaking the lead
Eight minutes later, they nearly took the lead in similar circumstances to their first goal. A corner from Ward Prowse found Romeu who's glancing header was weak. Chelsea couldn't clear the ball and Boufal put his shot on the wrong side of the post.
This proved to be costly as Chelsea took the lead in stoppage time. A corner for Chelsea was defended well but Kante picked up the ball in the middle of the half. He chipped the ball forward finding Alonso who headed it across goal where a charging Cahill powerfully headed home to make it 2-1.
GOAL! Gary Cahill heads it in for a second just before the half time break. 2-1. #CFC #CHESOU pic.twitter.com/YF24bWpjtV

— CFC gifs (@chelskigifs) April 25, 2017
HALFTIME
Chelsea's slick passing and clinical finishing helped them edge this very close half. Southampton defended resolutely and attacked well from set pieces but let their concentration slip right at the end. They were the more creative side with 9 dribbles to Chelsea's 4. Boufal accounted for 7 of these dribbles as he played a fairly free-roaming position.
Second Half:
The half began testily as Fabregas received a booking for a late hack on Romeu. Chelsea quickly picked up where they left off and scored in the 54th minute through Diego Costa, his first Premier League goal since March 6th.
A short corner from Fabregas was played to Hazard who drew Boufal and Soares to him before playing it back to Fabregas on the edge of the box. The Spaniard curled in a cross to the far post which was powered home by Costa.
GOAL! Diego Costa heads it in, scoring his 50th Premier League goal and putting his team up 3-1. #CFC #CHESOU pic.twitter.com/44P6awgKXf

— CFC gifs (@chelskigifs) April 25, 2017
The Saints had a good chance to pull one back just three minutes later as Tadic found some space on the right corner of the box and curled a shot toward the far post. Courtois pulled out a good save low to his right to keep the two-goal lead.
Killing the game off
Southampton looked diminished coming out in the second half but the third goal completely killed their spark. The intensity in pressing reduced as Chelsea were afforded tremendous space in midfield which Fabregas exploited. He would drop deeper changing the formation to a 3-5-1-1 allowing Chelsea to keep the ball more. Southampton took off Boufal for Redmond and switched to a 4-2-3-1 with Ward-Prowse playing on the right and Tadic behind Gabbiadini to attempt to come back
They continued to cause problems for Chelsea in set pieces. In the 69th minute, a corner was curled in and, like their first goal, found an unmarked Gabbiadini at the far post but the angle was too tight for his shot to be on target. Pedro was brought on for Fabregas in the 76th minute. Another corner three minutes later saw Davis get a good shot off from outside the box but it was blocked by Azpilicueta.
The resulting corner saw Chelsea nearly score off a quick counter. Hazard burst through the middle of the field and laid the ball off for Kante to his right in the box. The PFA Player of the Year attempted to lift it over the charging Forster but the Englishman pulled out a strong reflex save.
Late Action
The game was cooling down with Conte trying to finish the game bringing on Terry for Moses while Southampton brought on Long and Rodriguez for Ward-Prowse and Gabbiadini respectively to try to pull level.
However, Chelsea cemented their victory with a brilliant fourth goal in the 89th minute. Costa found himself with the ball on the left edge of the box and played a quick one-two with Hazard and then Pedro, forcing his way into the box before unleashing a shot low to Forster's right.
Here's another look at Costa's second goal. What a move this was! #CFC pic.twitter.com/9uBFPQYhvk

— Chelsea GIFs (@ChelseaGIFs) April 25, 2017
The game should have been finished but former Chelsea player Ryan Bertrand scored a second for Southampton on the last play of the game. A brilliant left-footed cross from Soares on the right found the charging Bertrand's glancing header as the ball nestled in the far post.
Tbo was so pissed at Cahill for the Bertrand goal lmaooo pic.twitter.com/c3ej3AZev7

— Brian (@Luizesque) April 25, 2017
FULLTIME: CHELSEA 4-2 SOUTHAMPTON
Stats:
17 Shots 11
49% Possession 51%
82% Pass Success 83%
15 Tackles 9
6 Corners 7
Themes of the Game:
Chelsea's Width
Chelsea's 3-4-3 formation best utilizes Hazard's attacking prowess by giving him a free-roaming role. He averages 4.2 dribbles a game, the second-highest in the league, and 2.2 key passes a game, the highest on the team. The way they manage this while maintaining defensive solidarity is through their wing backs, Victor Moses and Marcus Alonso.
The duo's roles as traditional wing backs, along with Kante and Matic acting as defensively inclined central midfielders, frees up the front three (especially Hazard) to be flexible in their positioning. They stay wide, hugging the touchlines and giving Chelsea a crossing option while the rest of the team builds through the middle.
Moses and Alonso would stay wide and draw the full backs and central midfielder to them leaving space in the middle. With Moses and Alonso keeping Soares and Bertrand busy, Hazard and Fabregas had space to cut inside and play through the middle. 14 of Chelsea's 16 key passes took place in the middle of the field with two on the right wing.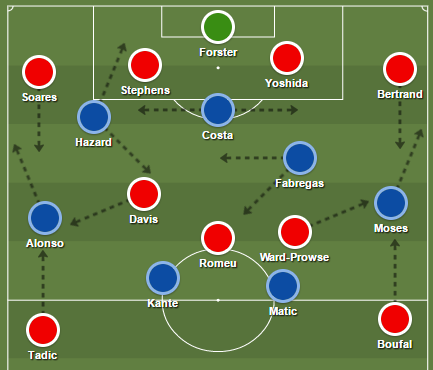 Southampton were able to stay in the first half by using their three midfielders to track Hazard and Fabregas' runs while Boufal and Tadic would help with the wing backs. Despite trailing at halftime, the strategy worked. The first goal was from a counter where Hazard should have been marked while the second came on a play that didn't involve any of the front 3. When the Saints stopped pressing in the second half, they were carved open at will.
Shifting Defensive Lines
The problem with Chelsea's attacking formation is that it creates gaps on the flanks and in between defense and midfield. Antonio Conte's team uses a high risk-high reward system of having attacking center backs in addition to their wingbacks in an effort to win the ball back quickly.
Azpilicueta, Luiz, and Cahill would frequently find themselves near the halfway line and would form a back-4 along with Matic or Kante when Chelsea were in possession. Even when losing possession, the entire team would try to put pressure on the Southampton defense to turnover possession quickly
The high pressing served two purposes today: it allows Chelsea to win the ball deep in opposition like it always does and it prevented Southampton from moving the ball forward quickly. In fact, it seemed like Conte prioritized the latter over the former today. 20 of Chelsea's 22 attempted tackles were in Southampton's half. 10 of their 13 fouls were in their half as well, illustrating that the team were putting far more defensive pressure up front than at the back.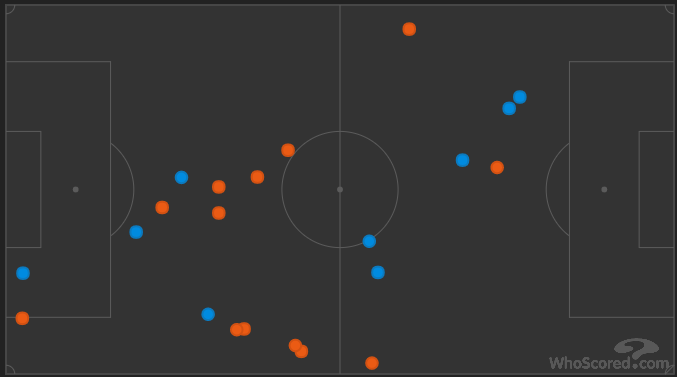 When Southampton were able to build up play from a dead ball and Chelsea were given time to reorganize, The Blues would line up in an aforementioned 3-5-1-1 defensively with Fabregas acting as a third central midfielder.
This gave them an extra man to deal with Southampton's three-man midfield while still using Moses and Alonso to maintain width. Keeping Hazard in a free role kept him open to attack on the counter like the first goal showed. This also helped make up for his lack of defensive movement. While he was positioned on paper as left forward, in reality, he was more of a shadow striker who would occasionally drift out left. This left Alonso with a large defensive burden. By pushing Fabregas into midfield, it allowed either Kante or Matic to cover up for Hazard in case of an attack down that flank.
Moving the Ball Forward
As mentioned before, Chelsea sought to prevent Southampton moving the ball from back to front quickly. It's an appropriate strategy as that's Chelsea's modus operandi as they managed 61 long passes to Southampton's 49. Southampton pulled off 508 passes to Chelsea's 478 passes. However, Chelsea had 198 passes in the final third to Southampton's 177 and 79 in their defensive third to Southampton's 71. Southampton did enjoy a massive advantage in midfield with 312 passes to Chelsea's 243.
Chelsea's attempts at pressing Southampton deep worked at preventing them from countering quickly through Tadic, Boufal, and Gabbiadini. They were forced to attack through slow, methodical buildup using their central midfielders. Conte's team pressed deep into Southampton's half but were happy to let them sit in the midfield and put numbers behind the ball while Hazard and Costa waited for the counter.
We saw this strategy pay off perfectly for the first goal as Fabregas played almost like a deep-lying playmaker while Hazard and Costa were deep in Southampton territory. This move was also exceptional counter-attacking as by the time Yoshida and Stephens tracked back to position, the pass to Costa had already been played.
Fabregas was the key to this quick movement as he alternated between being a central midfielder and playing behind Costa. His passing positions illustrate this as he had 32 passes in the final third and 19 in the middle; a far more even spread than Hazard with 43 and 10 respectively.
Set Piece Inefficiency
Southampton were certainly outplayed but gave the league leaders lots of cause for concern, primarily with their set pieces. Conte is a traditional Italian in that he prides his teams on rock-solid defenses. Chelsea's defending from set pieces today was from the standard expected of league champions as they were getting their positioning and marking horribly wrong.
The above pictures show Southampton's system for the corners which caused Chelsea so many problems.
Southampton would line up for corners with 4 players in a straight line behind each other, confusing the Chelsea defense who wouldn't know who or where to mark. Courtois would rush out far further than normal in an attempt to bail his team out. Out of Southampton's 7 corners, 1 resulted in a goal, 1 found an unmarked Boufal who hit the side netting, 1 was initially headed out but resulted in a Davis shot, 3 were punched by Courtois and just 1 led to a Chelsea counter attack.
It's interesting especially since Chelsea were fine with regular crosses but it seems as though set pieces are their weakness.
Player of the Match:
Cesc Fabregas
Diego Costa did have his hand in 3 goals, but Fabregas was the one who made two of those goals possible. He set up Costa's first, his eighth league assist, and it was his pass that unlocked the Saints' defense for Hazard's goal.
He managed 53 passes with a 90% accuracy, only behind Kante, Azpilicueta, and Hazard despite playing 15 minutes less, but it was his versatility in attack and defense that helped Chelsea dominate the game. He managed 2 tackles and blocked 3 shots and won an aerial battle for the ball, a supposed weakness to his game. In addition to this, he only lost the ball once compared to Costa's 11 times.
Chelsea travel to Everton on Sunday while Southampton host Hull on Saturday.