SEC dominance is well documented in football. To an extent, it's also pretty well known in baseball, drawing comparisons to low-A minor league baseball.
But it's in softball that the conference has really consumed the playing field. In fact, the SEC did something in softball for the first time this year:
For the first time in history, all SEC teams have qualified for the #NCAASoftball Championship in the same year! pic.twitter.com/of77JQAZ9h

— NCAA Softball (@NCAAsoftball) May 15, 2017
We're in the midst of the 2017 NCAA Tournament. Currently, we're in the Super Regionals portion where 16 teams remain. Of the 16, seven teams are from SEC with a possible eight depending on whether LSU emerges victorious in a winner-take-all game on Monday.
SEC In Top 25
To get an idea of how prominent the conference is, look at the current top 25.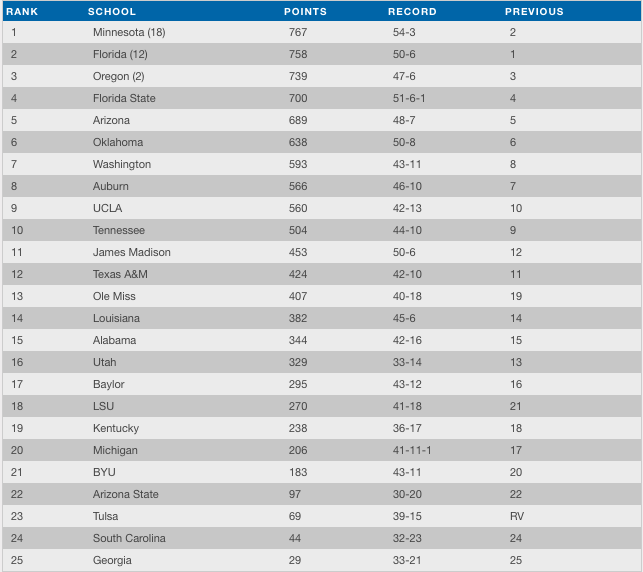 There are a whopping 10 SEC teams in the top 25. If you expanded it to 29 teams, Mississippi State (27th) and Arkansas (29th) would make the cut.
Florida Leads The Charge
The Gators are the cream of the crop in the conference. Despite recently losing their top spot in the rankings, they've continued chugging along, advancing to the Super Regionals after taking down Oklahoma State in a winner-take-all game. The Gators boast the best team ERA in the country (0.71), led by sophomore Kelly Barnhill who recently won SEC Pitcher of the Year after her country-leading 0.35 mark. The team also leads the country in fielding percentage (.986) and fewest errors made (20).
The Orange and Blue are considered favorites to compete for the championship.
History of Success
In the last decade, three SEC schools (Florida 2014-15, Alabama 2012) have been crowned champions. But of the last 10 championship games, nine of them have involved an SEC team vying for the title.
One of the more interesting series to follow in the Super Regionals is Florida vs. Alabama. They are No.1 and No.2 respectively in team ERA. The two squads didn't meet in the regular season, but the Gators dropped two of three last season.
At the very least, two SEC teams are guaranteed to advance to the Elite Eight. And there's a very real chance that it could be up to six SEC teams in the field.