Stellar pitching and runs sprinkled throughout the game led the Florida Gators to a 3-0 win over Texas Christian University in their opening game of the College World Series on Sunday.
Not only did the Gators snap a three-game losing streak in Omaha but they were only the second team to shut out the Horned Frogs all season.
Omaha victory speech! #CWS pic.twitter.com/VFAQcOS8AW

— NCAA Baseball (@NCAACWS) June 19, 2017
Junior RHP Alex Faedo had a standout performance on the mound, something that hasn't been uncommon for him in the post season. He broke Florida's record for strikeouts in a CWS game, a record previously set by himself. He finished the night with 11 K's, two more than his 2016 outing against Texas Tech. Faedo pitched seven innings, only allowing two hits, two walks and no runs.
https://twitter.com/SECNetwork/status/876611874632105984
The offense wasted no time getting on the board against the Horned Frogs. Ryan Larson drew a walk and a throwing error by TCU's pitcher Jared Janczak on the attempted pick off allowed him to advance to second. Infield grounders by Dalton Guthrie and JJ Schwarz plated him and put the Gators up 1-0 by the end of the first inning.
It looked like TCU might tie the game back up in the top of the third inning with bases load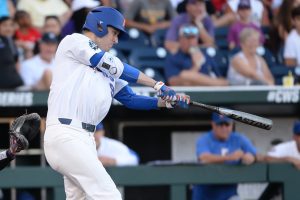 ed and only one out. The Horned Frogs filled the base path off of a pair of walks by Faedo and then a throwing error by Dalton Guthrie at shortstop. But Faedo answered with back to back strike outs, sitting down TCU's number two batter Zach Humphreys and slugger Evan Skoug (20 homers and 67 RBIs).
Meanwhile, the Florida offense continued to put runners on but didn't strike again until the fourth frame. Christian Hicks earned a RBI, singling to left field to bring in Mike Rivera from third, who drew a walk.
They strung together a trio of singles from Guthrie, Schwarz and Nelson Maldonado to tack on another run in the fifth, extending the lead to 3-0.
Closer Michael Byrne entered in the eighth to relieve Faedo and struggled a bit before settling in. He got himself into a jam with runners on first and third with two outs but ended the inning with a huge strike out, leaving TCU's Evan Williams looking. The earned his 17th save of the season, finishing out the game with four strikeouts in his two innings pitched.
Gators assistant coach Brad Weitzel said Byrne is always the calmest guy on the field and no one was worried when Byrne found himself in a tough spot.
Up Next For Florida…and is Maldonado OK?
Gators right fielder Nelson Maldonado left the field with a boot on his right foot following the win.  In the fifth inning,  Maldonado injured his right ankle rounding third base, rolling his ankle as he tried to slow down. Weitzel said that he can't imagine Maldonado not returning for the next game. After the game, Maldonado confirmed what Weitzel predicted, that he will be back on the field for the team's next match up.
The Gators will face Louisville on Tuesday night 7 p.m. in the winner's bracket. Louisville (53-10) defeated Texas A&M on Sunday afternoon, 8-4.