On Father's Day, Rays first baseman Logan Morrison crushed two home runs, his 20th and 21st of the season. Tampa trounced the Detroit Tigers 9-1 and sneaked into the second AL Wild Card spot. Morrison, now second in baseball in HR, has been a good representation of the Rays in 2017 — unexpectedly good.
Everyone expected the Red Sox to run away with the division, but the Rays are just 3.5 games back of first place and infused with some rookie success from pitcher Jacob Faria, they're a real threat to Boston and the Yankees.
Rays (37-35) vs. Reds (29-39)
On Monday, Tampa opens a three-game series with the Cincinnati Reds, the cellar dwellers of the NL Central. Jake Odorizzi (4-3, 3.77 ERA) and Scott Feldman (5-5, 4.29 ERA) square off in a series that rarely happens. The two teams have only ever played 12 times, with the Reds leading the interleague series 9-3.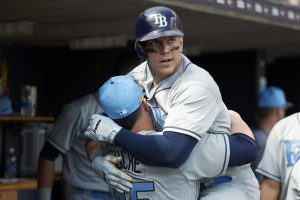 Despite the history, Tampa has an edge in Monday night's game. Only two players on the Reds 25-man roster (Scooter Gennett and Arismendy Alcantara) have faced off against Odorizzi. Whereas Feldman, thanks to his time as an Astro and Ranger, is a known commodity to Tampa. Of the Rays on the team who have faced Feldman, they own a combined .314 average against the righty.
On Tuesday, the Reds send rookie Amir Garrett (3-5, 6.91 ERA) to the mound while Tampa counters with Alex Cobb (5-5, 4.17 ERA). And on Wednesday Tim Adleman (4-3, 4.22 ERA) and Erasmo Ramirez (3-2, 5.17 ERA) battle.
Coverage of today's game begins at 6:30 p.m. ET on ESPN Gainesville 98.1 FM 850 AM WRUF.
Marlins (30-37) vs. Nationals (42-27)
The Fish have a much tougher opponent than the Rays. They take on the first-place Nationals, the team with the fifth-best record in baseball. However, each team's record belies their play the last three weeks. Miami is making strides from when they had the second worst record in baseball in late May. In their last 22 games, the Marlins own a 15-7 record. The Nationals are 13-9 in the same span.
The Marlins are reeling from two straight walk-off losses vs. the Braves. They'll tab Justin Nicolino, who's logged only 13 innings at the major league level in 2017, for the start. The soft-tossing lefty is making his first start since landing on the disabled list with a bruised index finger. Opposing him is Tanner Roark (6-4, 4.39 ERA). The Fish can take advantage of Roark, who's been shaky in his last three starts surrendering 13 runs in 18.2 IP. Keep an eye on Marlins OF Marcell Ozuna, who has three home runs in his last five games.
Marcell Ozuna's NL ranks:
BA – .333 (4th)
HR – 17 (T-4th)
RBI – 47 (T-8th)@Esurance #ASG ballot: https://t.co/zBbLHqNOXI#ASGWorthy pic.twitter.com/WprN2I3A1c

— All-Star Game (@AllStarGame) June 15, 2017
Braves (31-37) vs. Giants (26-45)
There's a good chance only residents of San Francisco and Atlanta will tune into this game, and even then that might be a precarious assumption. SF owns the second-worst record in baseball and are already 19.5 games out of first place in the surprisingly good NL West. The Braves, much like the Marlins, have rebounded over the last few weeks. They stole two games from the Fish over the weekend and now sit second in the NL East (albeit still 10.5 games behind Washington).
Squaring off today is SF ace Johnny Cueto (5-6, 4.57 ERA) and 42-year-old R.A. Dickey (4-5, 5.35 ERA). Cueto, only in year two of a six-year, $130 million deal, is having the worst year of his career. He has lost the ability to generate groundballs and hasn't taken advantage of spacious AT&T Park. The Braves, on the other hand, have more than taken advantage of their new field, SunTrust Park. They're hitting .265 at home, 10th best in baseball.
The Giants have lost six straight games and are way out any postseason race. It's hard to say whether the Braves are still destined for a playoff spot, but considering they're even further back in the NL Wild Card than in their own division, it's unlikely.