Wednesday kicked off day 3 of the SEC Media Days in Hoover, Alabama. By day 3, The logistics of the event remained the same. The objective of the day remained the same.
The difference in the days are the featured teams and coaches.
Day 3 highlighted two East Division teams and two West Division teams. Alabama, Missouri, Kentucky and Texas A&M filled the day with sights and sounds of the upcoming season.
ALABAMA
The Alabama Crimson Tide are coming off of yet another successful season–Another season they were competing for a national championship. This team lost a number of players to the NFL, but like always, this team will reload.
The Crimson Tide is projected to win the SEC this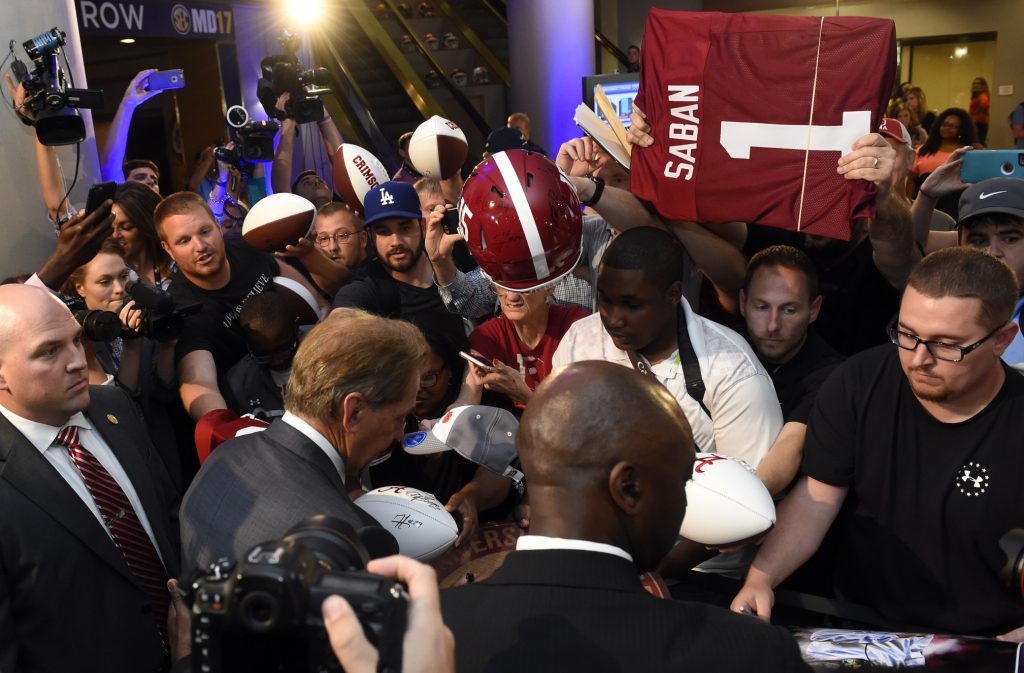 year, once again.
Head coach Nick Saban was accompanied by his players Minkah Fitzpatrick, Calvin Ridley, and Bradley Bozeman.
Response to National Championship Loss
You always learn from a loss, and if you don't, then that's on you. We're definitely using the motivation, and we're not letting small things slide. That's the reason we lost last year because we let little things slide towards the end of the season and the championship game. We lost because of small details," said Minkah Fitzpatrick
MISSOURI
With a losing record last season of 4-and-8, The media was eager to hear from the Missouri Tigers. The questions revolving around how do they plan to bounce back from last season and become relevant against in the East division. Head coach Barry Odom was accompanied by his players Eric Biesel, Drew Locke, and J'Mon Moore.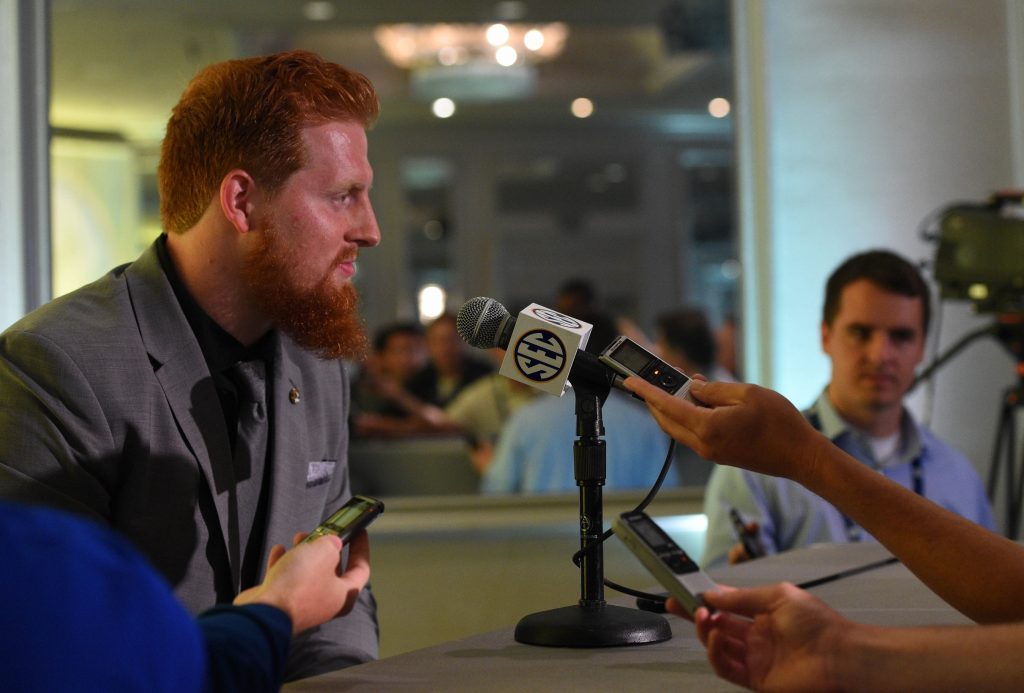 With Georgia being the favorite to win the East this year, and Florida and Tennessee still somewhat hot from last season, this team is projected to finish behind those three teams.
This was just Coach Odom's second year at SEC Media Days, but his charismatic responses put the Tigers as the frontrunner for day 3. The media also loved responses from Linebacker Eric Biesel.
Response to upcoming season expectations.
I've played for four teams now here, and two of those teams went to the SEC Championship. We've had two down years, but we fully expect to get back to the top. I want to avenge the legacy. We want to attack the line every single rep, one play at a time. We're focused on summer ball right now, but we do have high expectations for this team and for this season… Perfection is the goal, and greatness is the expectation," said Biesel.
Response to Budding Arkansas Rivalry and Bret Bielema
"I got respect for Bret and the job that he has done and continues to do. You know, people won't like it, but he and I communicate. I respect the job that he does," said Odom.
KENTUCKY
The Kentucky Wildcats earned a little more respect around the conference last season, after a hot seven-win season. Last season's success is projected to carry over into this upcoming season, which means the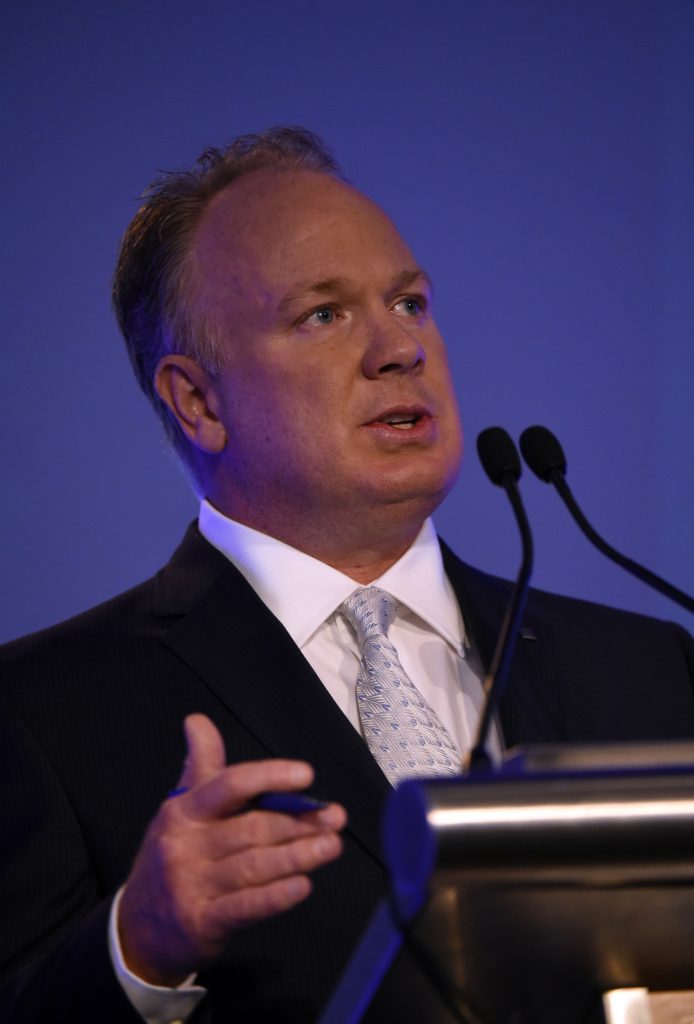 Wildcats could be added to the East division conversation.
Head coach Mark Stoops was accompanied by his players Mike Edwards, Stephen Johnson, and Courtney Love.
Response to Building Off of Last Season
"It gives us an opportunity, if we do all the things necessary that I talk about every day. You know, as I tell our team, if we attack every day, I said that the first day I was on campus my first press conference, we're going to attack every day. That was my mantra from day one. We're going to continue to do that. You don't hear a lot about it because we haven't been relevant enough in the SEC to this point. We're gaining on it. We are getting better. We're getting in position to compete for the East. And our football team deserves that," said Stoops.
TEXAS A&M
The Texas A&M Aggies have finished the past three seasons with a record of 8-5. Compared to other teams in the conference, that's a decent looking record. However, with the West Division loaded with talent and Alabama being a continuous front runner, head coach Kevin Sumlin is on the hot seat.
Last season the Aggies started off going 6-and-0, then lost their final five games. Kevin Sumlin was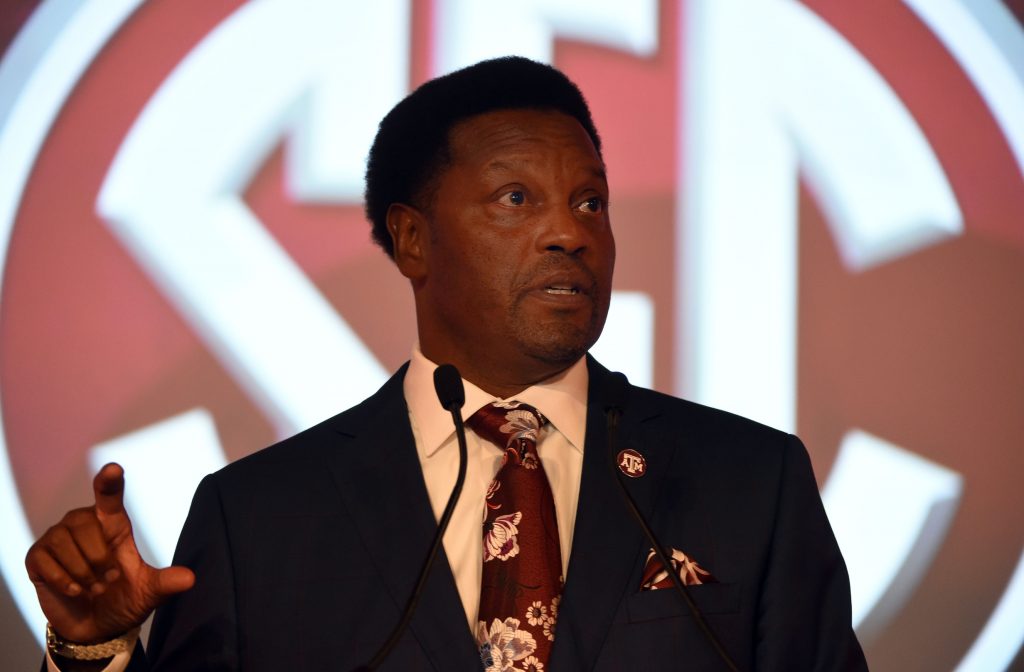 accompanied by his players Christian Kirk, Koda Martin, and Armani Watts.
"I don't — listen, the pressure I'm feeling is the same pressure I feel all of the time. And so nobody puts more pressure on me than me. And my job is every year, I look at what we do and what we do well. We want to stay ahead of the curve. When we're not doing well, it's my job to analyze it and try to fix it. And so looking at where we are and being open and honest about that with our team and with our guys who are here, I think that's what I was getting at by talking about it. All right?"