The fight between boxer Floyd Mayweather, Jr. and UFC fighter Conor McGregor graced pay-per-view screens everywhere August 26. Each man looked confident walking in, but there could only be one winner. In the end, Mayweather took the win in a TKO. But, McGregor pushed the undefeated boxer to 10 rounds and kept it tied until the end.
Conor McGregor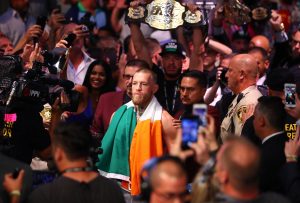 Conor McGregor raised eyebrows after challenging Floyd Mayweather at his own sport. After all, the Irish UFC fighter had never boxed in his life. Then, he taunted the boxer after months of scathing pressers. From profanity-laced suits to joking about his opponent's violent past, it seemed that nothing was off-limits for McGregor. He walked into the T-Mobile arena draped in an Irish flag and pumped up the crowd.
Let's do this. #MayweatherMcGregor #AboveTheNoise pic.twitter.com/ZwqDVWE2B7

— SHOWTIME Boxing (@ShowtimeBoxing) August 27, 2017
Early on, McGregor used his advantages. The 29-year-old used his younger reflexes to land sweet punches. The 8 ounce gloves also played in his favor. Mayweather, 40-years-old and used to 10 ounce gloves, looked slow in comparison. After the first three rounds, McGregor dominated. Shorter rounds than UFC fighting had him barely breaking a sweat. But, as the night went on, McGregor became more sluggish; his famous left hand started to falter and blood appeared on his face until the TKO was called in Mayweather's favor. Some people expected a McGregor win, but his detractors were pleasantly surprised. An undefeated boxer almost lost his first fight to someone whose record was 0-0 as a boxer. One of these people was Mayweather himself, who admitted McGregor shocked him. McGregor may have technically lost the fight, but gained a ton of respect.
Floyd Mayweather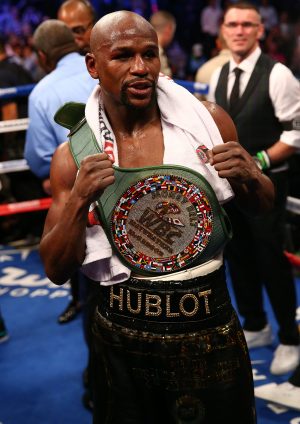 Fans had mixed feelings about Floyd Mayweather coming out of retirement to fight McGregor. Sure, he would make a lot of money, but ending a career on a loss would devastate anyone. Especially if the loss was to someone who had never boxed a day in their life. Like McGregor, Mayweather came out with an entourage.
.@FloydMayweather is back for 50. #MayweatherMcGregor pic.twitter.com/10iVvy1idl

— SHOWTIME Boxing (@ShowtimeBoxing) August 27, 2017
But, behind the strange mask, he looked more intimidated than intimidating. On the flip side of McGregor's hot start, Mayweather was cold. He backed into corners and took a beating. He was hit often.  But somewhere between the fifth and sixth rounds, Mayweather was back. He only got stronger as McGregor's strength started to wane. He looked completely different from the person who entered the ring. By the ninth round, McGregor looked tired. Mayweather made a massive hit leading into the 10th round and McGregor was unable to recover and Floyd Mayweather, Jr. won his 50th fight. Minutes after, McGregor admitted the respect he had for Mayweather and his career. A last win and respect from his opponent left Mayweather smiling for the rest of the night. The $350 million payout was just the cherry on top.
Final Thoughts
The Money Fight was expected to be a good one, regardless of the winner. And it delivered. Now, it's time for the all-time great to hang up his gloves. But, it can also be time for a newcomer to boxing to have a real career.