Coach McElwain announced Monday that Redshirt freshman Feleipe Franks will keep his starting position against Northern Colorado.
Franks Against Michigan:
In the opening game of the season Florida fell to Michigan 33-17.  In Feleipe Franks debut at starting quarterback he completed just 5-of-9 passes for 75 yards, fumbled twice and was sacked once before McElwain benched him.
Still, Coach is satisfied with Franks performance and ultimately blames some offensive plays for effecting Franks performance later in the game.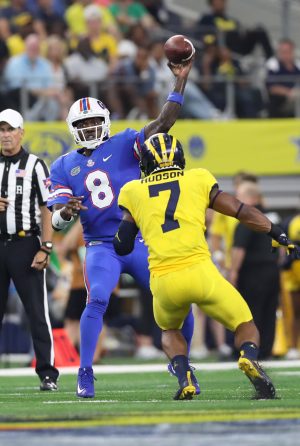 Zaire Against Michigan:
With Franks benched early in the third quarter, Florida brought in back up Malik Zaire. Zaire took a beating against Michigan's defense getting sacked five times while completing 9-of-17 passes for 106 yards.
Coach McElwain is satisfied with both players performance and says they did what they needed to do. 
Northern Colorado:
Saturday, Franks will have the ability to go up against a much easier opponent in a non hostile environment.
While The status is still unknown for key playmakers like Antiono Callaway and Jordan Scarlet is still unknown Freshman wide receiver James Robinson will be back against Northern Colorado.
Game Day:
With a hurricane headed towards, Florida it is still unknown the status of the upcoming game. As of now the game is set for 7 p.m Saturday September 9 in Gainesville Florida.
https://twitter.com/GatorsFB/status/905066368709558274