Florida basketball comes back in November and the Gators are anticipating a successful 2017-18 season. Veteran Chris Chiozza will be starting his senior season and expects to be named starting point guard. The Gator Nation remembers Chiozza for his impressive junior season as backup point guard and his heroism during 2017's March Madness. Most notably, his buzzer-beating 3-pointer against Wisconsin in the Sweet Sixteen has kept him in the spotlight.
Florida's Chris Chiozza ready to take on larger role following March heroics: https://t.co/vTAOE7MmQz pic.twitter.com/Bv1EnYlvNF

— NCAA March Madness (@marchmadness) October 5, 2017
Chiozza is more than one heroic shot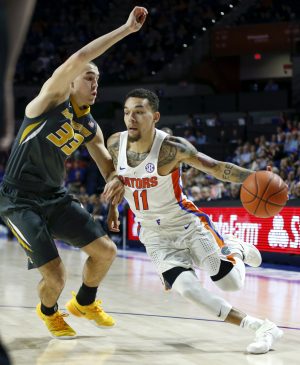 While the world of college basketball and social media continues to remind Chiozza of his game-winning moment last spring, Chiozza hopes to be remembered for more than that. Chiozza played every game his junior year, which was beneficial for the Gators. Among other notable achievements on the court, Chiozza recorded Florida's first triple-double since Nick Calathes' against Georgia in 2009. Chiozza accomplished this feat when he earned 12 points, 12 rebounds and 10 assists against the Mizzou Tigers in February.
Chiozza's veteran leadership valuable for young blood
The Gators have shuffled up this season's roster, as many 2016-17 stars, including starting point guard Kasey Hill, graduated in the Spring. This will be Chiozza's first year as starting point guard for the Gators and he will be leading a fairly young team. Florida's 13-man roster includes 5 Freshmen. On Florida Basketball Media Day, Chiozza complimented Freshman Guard Deaundrae Ballard on his gameplay, saying, "Ballard is an elite scorer. He's probably one of the best scorers I've seen and he hasn't even played a college game yet."
At guard, a freshman from Atlanta, GA #24 Deaundrae Ballard #OneTeam pic.twitter.com/9X0qmmj9Pk

— Gators M-Basketball (@GatorsMBK) August 2, 2017
Freshman Forward Chase Johnson has a lot of energy and is hard for opposing teams to block out despite his inexperience on the college court, Chiozza says. Chiozza continued on to stress the importance of defense and working on that with the freshmen this season.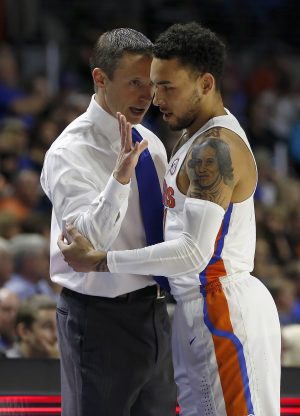 Chiozza credits Mike White for his growth
Chiozza is confident in his own ability and that of the team supporting him. However, he credits much of the team's achievement over the past years to head coach Mike White's leadership. White began coaching for the Florida Gators Chiozza's sophomore year and the team has since had much success. Chiozza's relationship with White has fostered his ability to improve as a basketball player, he says. When White took over the team in 2015, he replaced Billy Donovan, who coached Chiozza for his Freshman year. Chiozza stated that White's coaching is an improvement over his experience with Billy Donovan's his freshman season.
Chiozza and the rest of the Florida Gator Men's Basketball team will be back in action for the home opener against Gardner-Webb University on November 13th at 7 p.m.