The Philadelphia Eagles had a 34-24 victory over the Washington Redskins in Monday Night Football. The Eagles continued their winning streak after a memorable performance by quarterback Carson Weltz. Philadelphia has a 6-1 record while Washington has a 3-3 record.
The Redskins had a good start in this game thanks to Kirk Cousins's throwing accuracy. He had plenty of space and time to make decisions in multiple offensive possessions. Washington scored the first touchdown of the game, after Cousins made a 7-yard touchdown pass from the 2nd-&-goal line to Chris Thompson. Thompson was wide open on the left side and had no problems to get to the goal line. This was Thompson's third touchdown reception of the season.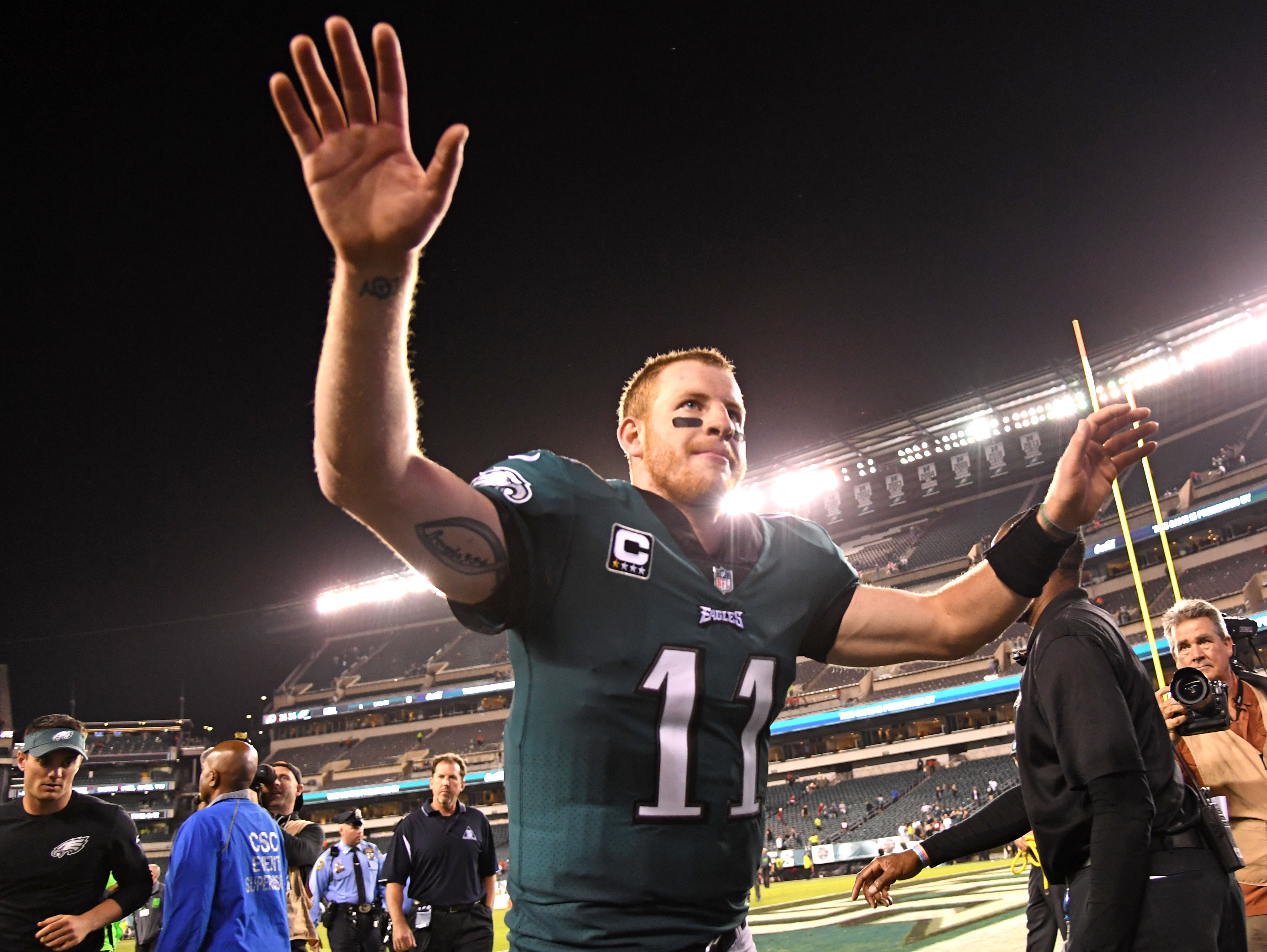 Carson and His Eagles
Wentz and the Eagles responded quickly to Washington's early 9-3 lead. With less than four minutes in the second quarter, Wentz made a deep 64-yard touchdown pass to Mack Hollins, who beat D.J. Swearinger on the run to the end zone. Wentz closed the second quarter with a four-yard touchdown pass to Zach Ertz with less than 30 seconds on the clock. This was the fifth touchdown reception of the season for Ertz.
With 9:43 minutes to play in the third quarter, Wentz dribbled through a sea of defenders through the 3rd-&-goal line and sent an off-balance touchdown pass to Corey Clement. Clement had to elevate himself in order to make the catch and beat Zach Brown on the jump.
Cousins showed how fast he can be at making decisions when he made a 5-yard touchdown pass to Jordan Reed while having defenders blocking his vision on the 1st-&-goal line.
The Eagles extended their lead to 31-17 early in the fourth quarter. Wentz faked a pass to running back Clement and immediately sent the quick 10-yard touchdown throw to Nelson Agholor. With 6:19 minutes to play in the game, Jake Elliot made his second field goal of the game to put the game 34-17 in favor of Philadelphia.
Another touchdown catch by Reed helped Washington got closed in the score with less than four minutes to play in the game, but it was not enough. Philadelphia ended up closing the game with a 34-24 victory. Wentz had 268 passing yards and four touchdowns passes. He now has 1,852 passing yards and 17 touchdowns during the season.