Few NBA players have carried the same amount of attention into their rookie season as 19-year-old Lonzo Ball. There's a good reason for that, because most NBA players aren't plagued with the constant shadow of their overbearing father.
Other high school superstars like 16-year-old Zion Williamson have gone viral with spectacular dunks and comparisons to LeBron James. However, Lonzo Ball is the undisputed king of hype, becoming the first ever high school player to release his own signature shoe.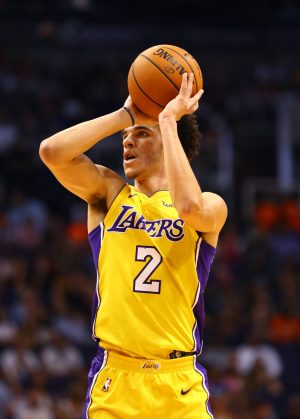 Big Baller Brand
Ball's ZO2 shoes sported a $495 price tag upon arrival, and reportedly, Big Baller Brand only sold around 500 pairs in their first week. The clothing brand was founded by Lonzo's father, LaVar Ball, instead of opting to sign his sons to major brands like Nike or Adidas.
While many fans have reacted negatively to the Balls' undeniable presence and influence, Lonzo has carried himself as a professional throughout the media storm. The NBA is a precarious beast, with players constantly balancing between cockiness and confidence.
Too much confidence, and you may find your reputation temporarily tarnished by an off game or a posterizing dunk. Too little, and you may be out-hustled by a more aggressive player or affected by trash talk. If you ask me, in terms of confidence, Goldilocks would've dubbed Lonzo Ball as "just right".
Even with his numerous distractions off the court, and with the unrelenting presence of his father, Lonzo has shown that he truly is a baller. No pun intended.
Should that surprise anybody? Absolutely not.
Reaching New Heights
One interview with LaVar Ball will tell you everything you need to know about Lonzo and his siblings. LaVar, with all of his faults, is the only reason Lonzo has experienced the success that he has. Many disagree with LaVar's methods, his trash-talking, and his attitude towards respected players, both retired and current.
However, any fan can tell you that LaVar has pushed his sons past their preconceived notions of what's possible, creating superstars before they've even stepped onto the court. As Kevin Garnett once said, "Anything is possible!", but having someone believe in you makes every possibility seem that much more attainable.
As for the Ball brothers, their father has groomed them from the beginning to attack and never back down. You can see it in Lonzo's unconventional shooting motion, a sight many NBA scouts would've previously cringed at.
For some reason, Lonzo makes it work, and now he's bringing a winning culture back to the Lake Show.
What's Next?
Lonzo may have the eyes and ears of the entire basketball world focused on his every move, but so far he's shown that he can handle the pressure. After a disappointing stat line in his first start, Lonzo bounced back with 29 points, 11 rebounds and 9 assists.
According to Lonzo, he and his new team have one goal: making the playoffs.
Individual stats aside, Laker fans have a reason to cheer now, and wins are all that matter in NBA basketball. Los Angeles is 2-2, but it's much too early to tell where this season is headed.
However, if LaVar Ball accomplishes his goals, the Lakers are just beginning to embrace the Ball family. Ball has proudly proclaimed that each of his three sons will play for the Lakers.
Wall brought the thunder, and Lonzo went back at him.

This is fuuun. pic.twitter.com/h9tLDKR75X

— ESPN (@espn) October 26, 2017
Eager to escape his brother's shadow, LiAngelo Ball will be able to strut his stuff this upcoming season at UCLA. Only time will tell if he will invoke the league's one-and-done rule to declare for the 2018 NBA draft.
LaMelo Ball, who scored 92 points in a high school game earlier this season, has been committed to UCLA since he was 13. There's no reason to think his destiny with the Lakers is far-fetched.
The X factor remains LaVar, who is now being embraced as the Lakers' sixth man. Regardless of how you feel about the Ball family, you've got to admit – they're fun to watch.