The Georgia football team beat out Alabama for the No. 1 spot in the College Football Playoff Rankings, but that's not getting in the Bulldogs' way as they play South Carolina Saturday.
Georgia and South Carolina have a rivalry when it comes to recruiting, so this game means a lot to both teams. The Bulldogs have won the last 2 meetings between these teams.
Georgia is favorited to win this game, but South Carolina does have a chance to pull the upset.
How Georgia Could Win
"What are you gonna get better at today?"#ATD / #KeepChopping pic.twitter.com/RyNTWLXZai

— Georgia Football (@FootballUGA) November 1, 2017
Georgia is all about focusing on the team's next game. Head Coach Kirby Smart sees the new rankings as a distraction, which is why he isn't letting his team focus on it.
The improvement in the offensive line this season keeps the Bulldogs scoring 30 points in almost every game. The line focuses on the mistakes they made so they can learn from them and better themselves.
Smart said the offensive line has made huge improvements since the 2016 season and it's because they have a better understanding of things they need to be doing.
Isaiah Wynn has held a big leadership role while he's been playing at left tackle. He might not be the most vocal person on the team, but the entire team knows the expectations he has for each individual play and those players want to meet his expectations.
If Wynn's teammates aren't meeting those expectations, he doesn't have a problem letting them know they need to raise the bar.
How South Carolina Could Win
The Gamecocks are 6-2 this season, which is making fans really excited.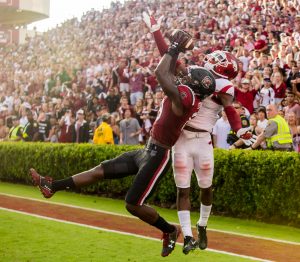 South Carolina knows they must be physical throughout this entire game in order to keep up with Georgia.
Quarterback Jake Bentley must protect the ball during this game. He's thrown just four interceptions this season.
If Bentley protects the ball and continues to throw 7.3 yards per pass, the Gamecocks will have an easier time getting down the field.
Once down the field, Bentley can continue what he's been doing all season – score touchdowns.
Bentley has thrown for 13 touchdowns this season.
Ty'Son Williams and A.J. Turner as running backs will also help the Gamecocks score.  The two combined have over 700 rushing yards.