College football is already in its tenth week and the Southeastern Conference continues to shake up the rankings. Well, the SEC West, at least. The East has been relatively boring, with Georgia clinching the title last week. But, the race for the SEC West crown is tighter than ever and is still going full speed. Let's take a look at how the teams fared in Week 10 and what Week 11 has in store.
Alabama Crimson Tide; 10-0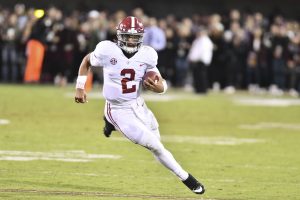 The Tide is in the midst of its second consecutive undefeated regular season and is back at number one. But, Saturday's nail-biting win over Mississippi State threatened that record greatly. The Bulldogs scored the first touchdown of the night and dominated possession for 38:56 compared to Alabama's 21:04. Going into the fourth quarter, they even led 21-17. (For perspective, the Tide made it on the board first in their first nine games. They've also never had to come from behind, except for a two-minute trail against FSU.)
However, what makes Alabama special is their reluctance to lose. In the fourth quarter, they put up fourteen points compared to Mississippi State's three. The actual game-winning touchdown was a 26-yard pass from Jalen Hurts to a true freshman with 25 seconds left. Twenty seconds later, Mississippi State had the ball and they were close enough to get a touchdown. Quarterback Nick Fitzgerald throws into the endzone, but BAM! The Tide slaps it out of the hands of the Bulldogs' wide receiver. Pass interference on 'Bama. A shaken up Fitzgerald throws again, but it's overshot and the Crimson Tide survive. A clearly relieved Nick Saban had this to say in the post-game.
Next up, they'll face Mercer (5-6) in what should be an easy game. But, they'll take on a dominant Auburn after that. With a depleted defense, 'Bama needs to rely on its strong offense in order to get past Auburn and get their fourth consecutive SEC West title. It will be interesting to see if they use this game as a motivator or fall short of expectations.
Auburn Tigers; 8-2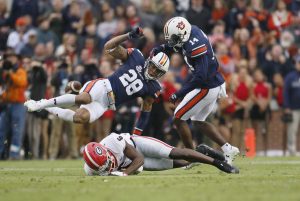 The Tigers may be 8-2, but after Saturday, no one should count them out of West contention. They hosted the top ranked Georgia Bulldogs and won. And they didn't just win, either; They dominated. Many believed Georgia's true freshman quarterback Jake Fromm could be stopped. But up until the Tigers came stomping, nobody did it. But oh, did the Tigers do it. They sacked the freshman four times and limited his passing to 13-of-28. Then, they flat out stopped the run game. Running backs Nick Chubb and Sony Michel averaged just 2.4 yards per carry.
Enough about Georgia though, let's get to Auburn. Quarterback Jarrett Stidham only went 16-for-23, but passed for three touchdowns and rushed for one. But, the real winner of the night was running back Kerryon Johnson. Johnson ran all over Georgia's top 10 defense, accumulating 167 rushing yards and 66 receiving yards. In the end, the score was 40-17, and down goes Georgia. No surprise here, Gus Malzahn was beaming after the win.
Next up, Auburn takes on La-Monroe before the annual Iron Bowl against Alabama. If Auburn plays like they did against Georgia, a win over Alabama is feasible. But, if they get too cocky, two losses could easily turn to three.
LSU Tigers; 7-3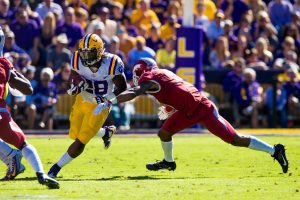 The LSU Tigers don't really have a chance at the SEC West title, but they're still third up. Saturday's game brought a match-up against a virtually nonexistent Arkansas. But, the Tigers still had themselves a game. Although they were tied at halftime, LSU dominated the second half. Leadership from the team's heavy hitters brought the Tigers to a 33-10 win.
Next up: LSU will take on Mississippi State. Given their track records, it looks like the Bulldogs will take this one. But, LSU is one of Auburn's two losses. So, a big showing out from the Tigers could easily prop them up to 8-3.
Texas A&M Aggies; 6-4
The Aggies win over New Mexico put them at 6-4. Texas A&M's only SEC wins came against Florida, Arkansas, and South Carolina. But, out of those three, South Carolina is the only team with a winning record. Quarterback Kellen Mond has been hit and miss this season, only showing out in flashes. Kevin Sumlin's coaching tenure looks to be tapering out. Another year for Mond could put the Aggies back on track for next year.
Next up: The Aggies will take on Ole Miss. Expect a win here, but maybe not a blowout.
Mississippi State Bulldogs; 7-3
Mississippi State has had a hard schedule this year. Their only losses come at the hands of Georgia, Auburn, and most recently, Alabama. Their narrow loss against 'Bama forced college football aficionados to give them a closer look. And quarterback Nick Fitzgerald has dipped in and out of Heisman talk. But, Mississippi State cannot seem to break out of "really good" and into "elite". Like many teams, Mississippi State looks to be in the "one more year" range. Meaning, next year, if all the pieces fall into place, the Bulldogs could be a wildcard for the SEC West title. However, this year, they'll have to watch tapes of teams in CFP contention and model themselves after that.
Next up: The Bulldogs should get a win over Arkansas. If 'Bama is a motivator, expect a big win.
Ole Miss; 5-5
Ole Miss was the SEC West's runner up back in 2015. But, a lot has changed in two years. Their only SEC win was a field goal over Kentucky. Yep, even Arkansas beat them. Ole Miss needs to just sit this one out and hope next year is better.
Next up: Ole Miss takes on Texas A&M and will probably lose. Next.
Arkansas; 4-6
Arkansas is just having a bad year. A loss to LSU was probably expected. But, the Razorbacks beat non-conference opponent Coastal Carolina by one point. Not that non-conference opponents can't be good. But, Coastal Carolina is 1-9. It looks like Bret Bielema is out after the season's over. Here's looking to a stronger 2018.
Next up: It's not a question of if Arkansas will lose to Mississippi State. It's a question of how big a blowout it really is.
SEC West Final
There you have it. The SEC West out of week 10 going into week 11. The only real contenders are Alabama and Auburn. But, LSU, Texas A&M, and Mississippi State can get some good bowl games and win out.