The Florida Gators are coming off of a 116-74 victory over Gardner-Webb, but the momentum can't be overstated. While Florida hit 15 of their 29 three-pointers and forced 14 turnovers leading to 22 points, the competition level is still far below what the Gators will see in the SEC and in better non-conference play.
On Thursday night at 7 p.m., Florida will welcome the North Florida Ospreys to the O'Connell Center. UNF is coming off of a 10-point loss to VCU, but the game was closer than the score indicates. The Ospreys trailed by three points with under two minutes left in the contest, but could never take the lead.
https://twitter.com/GatorsMBK/status/930852770269319175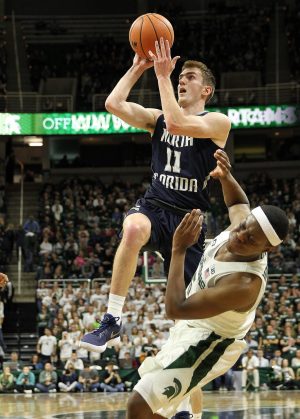 Replacing Dallas Moore
North Florida's hardest task this season will be replacing Dallas Moore's scoring. Moore graduated after last season and averaged 23.9 points per game on 48.8% shooting from the field. He accounted for over 30% of the team's scoring during the 2016-2017 season.
This year, sophomores Garrett Sams and Ivan Gandia-Rosa have taken over the brunt of the offensive load. Ole Miss transfer J.T. Escobar has also given the team a three-point shooting boost. If you add up Sams', Gandia-Rosa's and Escobar's points per game, the trio scores 43 of UNF's 72 points per contest.
Three-Point Shootout
The Gators aren't the only team in this match-up who can hit from deep. The Ospreys have attempted at least 15 three-pointers in each of their three games this year, making at least 9 per contest. UNF went 11-29 from long-range in their season-opener vs. Michigan State, shot 9-15 from beyond the arc in their second game vs. Michigan and most recently hit 17-40 three-pointers vs. VCU on Monday night.
North Florida has made 44% of their three-pointers this season, which despite the small sample size, ranks 50th in the nation. They've also made the 18th-most three-pointers in the NCAA this year.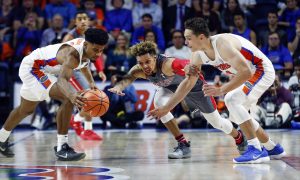 7 Days, 3 Games
The toughest part about the start of Florida's schedule is the amount of games they'll play in such a short amount of time. The Gators have already played Gardner-Webb and will have played both North Florida and New Hampshire by midnight on Sunday. While fatigue may be a factor in Sunday night's game, it's safe to say Florida is still amped up, rested and ready for Thursday night's game vs. UNF.
Probable Starters
Despite the fact that Chris Chiozza was healthy enough to give it a go on Monday, he's still not listed as a starter, per Florida's official pre-game notes.
KeVaughn Allen (9 points, 5 rebounds, 3 assists vs. Gardner-Webb)
Jalen Hudson (16 points on 3-5 shooting from beyond the arc vs. Gardner-Webb)
Egor Koulechov (34 points on 6-9 shooting from long-range vs. Gardner-Webb)
Keith Stone (3 points, 3 assists, 2 rebounds vs. Gardner-Webb)
Kevarrius Hayes (7 points, 4 rebounds, 2 blocks vs. Gardner-Webb)
Mike White on Jalen Hudson's quiet 16-point performance.
Mike White on Egor Koulechov not trying to outdo himself next game vs. UNF.
Injury Updates
Mike White said that Chris Chiozza is essentially back at 100%, while Gorjok Gak will be limited in practice on Wednesday. You can listen to White's comments below.
Recruiting Buzz
With the signing of Keyontae Johnson, Florida officially has three players signed to their 2018 recruiting class in 5-star point guard Andrew Nembhard, 4-star shooting guard Noah Locke and 4-star small forward Keyontae Johnson. 247 lists Florida as having the 13th-best recruiting class of 2018, while Rivals has Florida slotted at No. 18.
Mike White has done a stellar job in improving his team for years to come, but the recruiting cycle isn't over yet. The Gators are still pursuing Anfernee Simons, who decommitted from Louisville following the Rick Pitino scandal. Simons is ranked as the No. 12 player in the Class of 2018 by 247, and is considered the second-best shooting guard in the country behind Romeo Langford. The consensus opinion is that Florida leads the race for Anfernee Simons, with Tennessee, Vanderbilt and FSU in contention for the elite combo guard as well.
Think you can beat @MikeWhiteUF in H-O-R-S-E? Think again.#GetToKnowYourGators@GatorsMBK pic.twitter.com/v7vTdKOBSz

— Florida Gators (@FloridaGators) November 14, 2017
How To Watch and Listen
Thursday night's game vs. UNF tips off at 7 p.m. from the O'Connell Center on the SEC Network. Dave Neal and Jon Sundvold have the TV call. As always, you can listen to the game on the Gator IMG Sports Network or Sirius 132/XM 381.
We've got some great #CyberMonday deals for you – click and find out about our one-day sale! #GoGators https://t.co/BhFAvQCU7c

— Florida Gators (@FloridaGators) November 15, 2017