GAINESVILLE, Fla.— Florida taking on Florida State. It's an old rivalry, however today's meeting was a different than usual.
It was a battle of two in-state teams who have a lot of hatred for each other. The hatred was nothing new between these two. It was the caliber of the game that was a little different than past recent years. More times than none, there's always a lot of hype leading up this game. This go around, there was not much hype. Unless you consider Florida having the possibility of keeping Florida State from a bowl hype. Or unless you consider the speculation of Florida's next head coach hype. There was no hype.
Sitting at a shocking 4-and-6 record, the two rivals came into The Swamp with matching records.
Game Recap
Seminoles Jacob Pugh and Levonta Taylor turned takeaways into touchdowns which helped defeat the Gators for the fifth consecutive year, 38-22 Saturday.
It was Pugh who scored on a fumble for 16 yards in the first quarter, and Taylor returned an interception for 18 yards in the second quarter.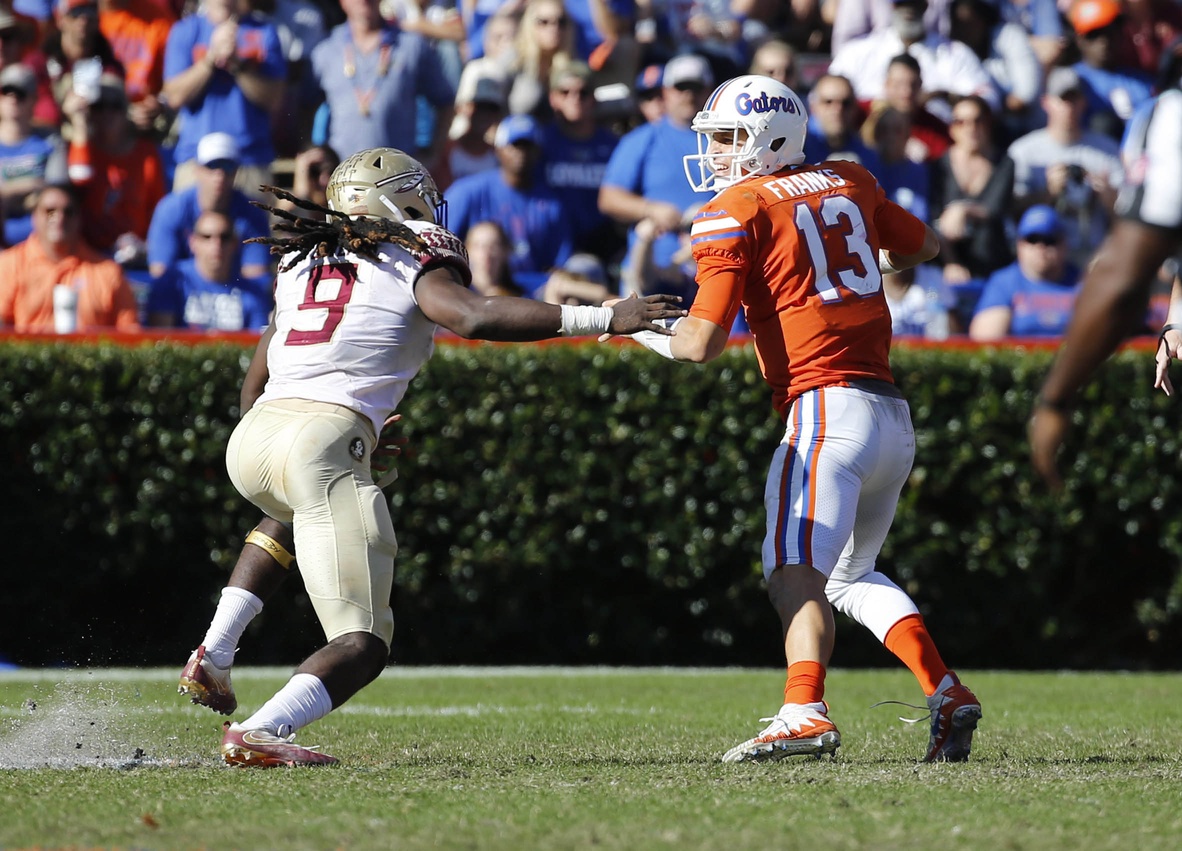 The Gators quarterback Feleipe Franks was sacked five times and intercepted four times throughout the game. Needless to say, he and Florida couldn't shine through the turnovers.
Franks completed 18 of his 39 pass attempts for a total of 184 yards. In the mx of his turnovers, Franks did manage to add two turnovers to his numbers. Senior wide-receiver Brandon Powell was the target on both ends of the two touchdown passes.
Senior running back Mark Thompson got the lone rushing touchdown for the Gators. He complied 63 yards off of nine carries.
In the end, Florida State improved to 18-2 against teams from the state of Florida since Jimbo Fisher took over in 2010 and now have their longest winning streak against Florida since they first played in 1958. The current win streak is at five games.
Florida on the other hand, ended up with a losing record for the second time since 1979. Now, the program can turn its focus on finding the next head coach who can potentially turn the offense around.