Since the loss of Jameis Winston, the Buccaneers have gone 2-1 with second-string quarterback Ryan Fitzpatrick.
Progression
The Tampa Bay Buccaneers star quarterback returned to practice this past Wednesday, locked, loaded, and ready to go. With Jameis Winston being out for the past three weeks with a shoulder injury, he has been cleared to play this Sunday taking on the Green Bay Packers. He has shown much improvement from his injury and is showing signs of returning to the starting spot.
It is no mystery that he should be starting, but should Tampa Bay take a risk by starting him with the possibility of another injury?
Winston performed very well in practice showing that he is able to throw the ball without any pain.
"He threw the football fine, his arm strength was fine. I don't think any guy that plays a skill position like that where timing is involved is going to take three weeks off and be perfect on his first day, but well see how the week goes." said head coach Dirk Koetter. Although, Winston is making his way back to the lineup, he and the Buccaneers will be tested Sunday.
The Bucs offensive line is depleted, with their starting right tackle and center both placed on injured reserve. That is a big part of their offense gone and protection for Winston will suffer.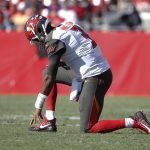 Stats
61.2 percent of his passes completed for 1,920 yards
10 touchdowns thrown for the season
6 interceptions
In all of Winston's three season as a Buccaneer, he has never missed a game prior to this injury. With Winston back in the lineup, he and the Buccaneers can make a statement to end the season. A wildcard spot could produce a playoff run, but it will be difficult to reach.
Game time is set for Sunday at 1 PM.