After searching for a new athletic director and a new head football coach, the University of Arkansas has finally found both. Today, former SMU head coach Chad Morris has been named the new head football coach. On November 4th, Hunter Yurachek was announced as the new Athletic Director.
Last month, Arkansas fired Athletic Director Jeff Long and then they fired head coach Bret Bielema. According to SB Nation, Long was always considered a big Bielema backer since Long hired him five years earlier. After losing to Missouri in their last game of the season 48-45, the university decided to part ways with Bielema. He finished his fifth year as head coach with a record of 4-8.
BREAKING: Chad Morris has agreed to be the next Arkansas head coach.

(via @ESPNRittenberg and @ClowESPN) pic.twitter.com/O98acd85ye

— SEC Network (@SECNetwork) December 6, 2017
Arkansas Coaching Struggle
Morris comes into an Arkansas football program that has struggled to be successful in a strong Southeastern Conference since 2011. Following the 2011 season, Arkansas fired scandal-ridden coach Bobby Petrino.
When Petrino was the head coach, the Razorbacks had their best back-to-back seasons in the SEC. They went 21-5 in the 2010-2011 seasons. Petrino led this football program to the 2011 Sugar Bowl against Ohio State.
Post-Petrino the Razorbacks went 4-8 under an interim head coach and the 29-34 in five seasons and 11-29 in the SEC under Bielema.
In 21 DAYS, Arkansas has put in some WORK. #WPS

– Nov. 15: Jeff Long fired as AD
– Nov. 24: Bret Bielema fired as coach
– Dec. 4 Hunter Yurachek hired as AD
– Dec. 6: Chad Morris hired as coach pic.twitter.com/UgerbApQz4

— Tyler Thomason (@TyThomason) December 6, 2017
New Beginnings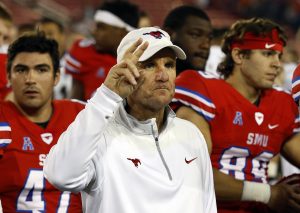 Chad Morris comes to Fayetteville from SMU. In his three seasons with the Mustangs, he went 14-22, but he has drastically improved that teams performance in that time. Morris went 2-10 in his first season in 2015, 5-7 in his second season, and 7-5 this season.
Morris spent time at a Texas high school as a creator of high-scoring offenses and also at Clemson as the offensive coordinator.
He had signed a three-year extension with SMU before taking this position.
Morris has agreed to a six-year contract with the Razorbacks, according to the Associated Press. He is expected to be paid in the $4 million range per year.