No. 22 Florida and Clemson are set to square off in the Orange Bowl Classic in Sunrise, Florida at the BB&T Center on Saturday evening for the first time since 1957. While the two teams have played 18 times in program history, with the series tied at 9-9, 15 of the contests came before World War II.
The Gators have won seven straight games at the Orange Bowl Classic, most recently taking down Charlotte, 87-46, in 2016. UF's last loss in the OBC came during the 2009-2010 season, when the team was defeated by the Richmond Spiders, 56-53.
Saturday's game tips off at approximately 4:30 p.m. and can be seen on Fox Sports Florida in the state of Florida and Fox Sports 2 nationally. The tilt is part of a two-game event. Florida State and Oklahoma State will play the first game of the Orange Bowl Classic at 2 p.m.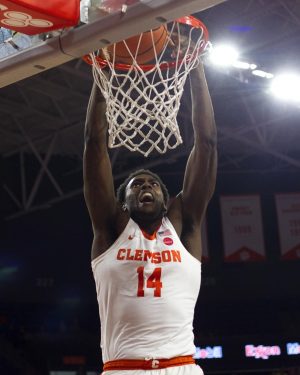 By The Numbers (Clemson)
Clemson isn't currently ranked in the AP Poll, but they're only 13 spots behind Florida in KenPom's college basketball ratings. The Gators are ranked 21st on KenPom, while the Tigers come in at 34th.
Clemson's offense has been solid this season, averaging 79.8 points per contest, but it's been their defense that has won them games. The Tigers are only allowing 63.9 points per game, good for 19th in the NCAA. They're ranked 49th in the nation in opponent two-point percentage and 7th in offensive rebound percentage allowed.
Tall Tigers
Along with their stellar defensive metrics, Clemson has the advantage of height in this matchup as well. Their most frequent lineup in the past five games, which includes Shelton Mitchell, Marcquise Reed, Gabe DeVoe, Donte Grantham and Elijah Thomas, has an average height of a little less than 6'5″. That lineup has also scored 82.3% of the Tigers' points this season.
Florida will have to make it a priority to keep Elijah Thomas and Donte Grantham off the boards. Thomas is the taller of the two and the better rebounder. He's averaging 12.1 points and 8.8 rebounds per contest and has recorded three double-doubles in nine games this season. Most recently, Thomas posted 11 points and 11 rebounds in an 81-59 beatdown of Samford. He's also ranked 9th in the country in defensive rebounding percentage
Grantham is the better scorer, averaging 16 points per game on 66.7% shooting from the field, knocking down three-pointers at a 38.7% clip. He's recorded at least one steal in each of the team's past five games and has turned the ball over only four times in the last three contests. Grantham ranks 7th nationally out of 2,167 players in 2P%. He's also ranked in the top 10 in effective field-goal percentage and true-shooting percentage.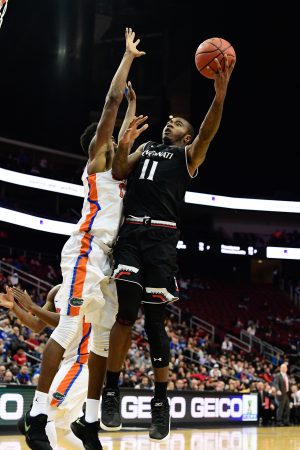 How Can The Gators Improve?
If we're being honest here, Florida's interior defense is a massive problem. I understand that the team is without John Egbunu and Isaiah Stokes, who are both projected to return in late January, but teams who are looking to contend for a national title need to be able to win without role players. The Gators have been outscored by an average margin of 14 points per game in the paint during their past five contests.
While some will point to the fact that Kevarrius Hayes is ranked 40th in the country in blocks per game, most of his swats come on help defense. He still struggles on one-on-one post defense, routinely getting backed up too far under the rim. Despite this, Florida's poor interior defense can't be pinned simply on Kevarrius Hayes.
The team is ranked 210th nationally in offensive rebound percentage allowed and 11th in the SEC in defensive rebounds per game. As Mike White has said many times before, rebounding must be a team effort while Egbunu and Stokes remain out with knee injuries. I've personally been a big proponent of giving Chase Johnson more time, but injuries and illnesses have impaired his freshman season.
UF's 4 most popular lineups in the past 5 games. (% is % of total minutes)
1. Chiozza, Allen, Hudson, Koulechov, Hayes (22.1%).
2. Chiozza, Allen, Hudson, Koulechov, Stone (17.3%).
3. Chiozza, Allen, Hudson, Stone, Hayes, (5.2%).
4. Chiozza, Allen, Ballard, Koulechov, Gak (4.3%).

— Jake Winderman (@jakewinderman) December 15, 2017
By The Numbers (Florida)
The last three paragraphs of this article have talked about the negativity surrounding Florida basketball, so let's end with some positives.
Jalen Hudson: 3rd in the SEC in points per game (19.1) and 81st nationally in offensive rating.
Chris Chiozza: 2nd in the SEC in assists per game (6.1) and 5th in steals per game (1.4). Chiozza is also ranked 46th nationally in three-point percentage (52.2%) and 64th in assist rate.
Egor Koulechov: 7th nationally in free-throw percentage (96.4%) and 41st in turnover rate.
As a team, the Gators are ranked 8th in turnover%, 19th in points per game, 23rd in steal%, 24th in turnover margin, 26th in free-throw%, 29th in assist-to-turnover ratio, 35th in block% and 43rd in three-point%.
https://twitter.com/GatorsMBK/status/940960464690909184