After a dominating win over Mississippi State on Wednesday night, Florida sits alone atop the Southeastern Conference with an unblemished 4-0 record. The Gators head to Oxford to take on the Ole Miss Rebels on Saturday afternoon at 1 p.m. At 9-7, the Rebels may seem like an easy opponent in a not-so-easy conference, but as Gator head coach Mike White knows, this is not the case.
"I think they're a lot more dangerous than their record indicates. [Andy Kennedy] does a terrific job of getting guys shots, executing and it makes it even more difficult to defend the Rebels year in and year out. This team is no different."
In their most recent contest, Ole Miss was up by 10 points at the half against the 22nd ranked Auburn Tigers. The Tigers proceeded to outscore the Rebels by 25 points in the second half to win 85-70. Breein Tyree led the Rebels with 24 points, while Terence Davis added 13 points and 10 rebounds. Leading scorer Deandre Burnett missed the game with the flu, but is expected to play against Florida.
Backcourt Presence
Ole Miss has one of the deepest backcourts in the SEC. Their top four scorers, Deandre Burnett (14.4 ppg), Terence Davis (13.5 ppg), Breein Tyree (10.4 ppg), and Markel Crawford (10.3 ppg), are all guards. The Rebels lack a dominating interior presence. Guards combine to score 57.7 of the team's 78.6 points per game.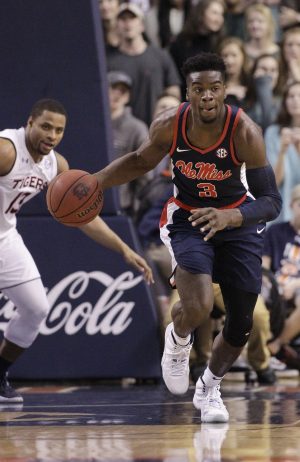 Their major backcourt presence leads them to take the most three-pointers in the SEC at 26 attempts per game. However, they only connect on one-third (33.3%) of their long-range attempts. This number has dipped to 27.9% since the start of the conference schedule.
The Gators are built the same way, with their four best players all listed under 6'6″. Mike White knows first-hand how dangerous a team of high-quality guards can be.
"We've got to be very aware of who does what from what spot on the floor, and the difference of each of their five guards on the floor. They're unique in that I don't know how many teams in the country have five guards on the perimeter averaging nine points or more. They're all true guards. And they have some capable frontcourt guys, as well. But just a very capable backcourt. They haven't shot the ball as well as they're capable, in my opinion, to this point."
While the Rebels defense has been less than stellar this year, Mike White brought up the type of versatility that Ole Miss brings on the defensive end.
"Ole Miss again is a little abnormal in that they change as much as anybody in the country and Andy Kennedy does a great job of keeping you off balance, play a bunch of different defenses and a couple of them are very unique. You know, certain defenses that change what they are, the zone will change within a possession."
White then went on to explain how the Gators plan on preparing for the changing defenses that the Rebels deliver.
" We've got to be aggressive. We've got to understand the differences but at the same time, we can't be very stagnant by over-thinking it as well. We've got to value the basketball, they've got really good team speed and quickness, they play really hard. Chris has got to get us in the right spots and we've got to be in attack mode."
KenPom Stats of the Day
The Rebels have the worst effective field goal percentage (41.7%) in the SEC during conference play.
Ole Miss turns the ball over on 15.9% of their possessions, which ranks 24th in the country. In conference play, this number dips to 13.3%, which ranks 2nd in the SEC. Florida ranks 1st with a turnover percentage of 12.6% in SEC games.
Their offense outweighs their defense: They have an offensive efficiency of 110.5, which ranks 64th in the country. Their defensive efficiency is 103.1, which is 156th in the country.
How to Watch and Listen
The contest begins at 1 p.m. and is being aired on CBS. You can also tune into Gator IMG Sports Network with Mick Hubert and Bill Koss to listen live.
https://twitter.com/GatorsMBK/status/951889249770659842