Expectations for the 2017 Jacksonville Jaguars should not have been high after coming off a 3-13 season in 2016. Yet, Jaguars fans still found themselves disappointed at the end of the season.
The Disappointment
After making it to the playoffs and advancing to the AFC Championship, Jacksonville players, coaches, and fans could all envision making it to the Super Bowl. And for the first time in several years, they legitimately had a chance.
The unexpected success the Jaguars had throughout the season made it easy for fans of the organization to quickly forget all the struggles they faced just one year ago. However, this only made it harder when Jacksonville fell to the New England Patriots in a close game on Sunday.
Jaguars head coach Doug Marrone noted the pain the entire team feels from the loss.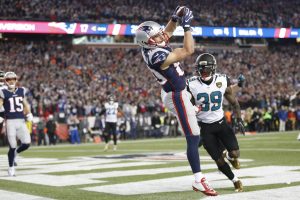 Despite a successful season, especially when compared to recent years, falling short so close to the end goal is difficult to handle. And even if most outsiders expected this result, that was not on the minds of the Jacksonville players and staff.
Jaguars quarterback Blake Bortles, along with the rest of the team, expected to win the game and were understandably disappointed when they couldn't get the job done.
Marrone was quick to not put the blame on any one individual. He said that this was a team effort and he just wished to get more out of every person involved.
Moving Forward
Right now there seems to be no consolation for losing. It's going to take time for the entire organization to get over Sunday's loss. But once they do, there's a lot the team accomplished that they should be proud of. The Jaguars went 10-6, won their first division title since 1999 and made their first playoff appearance since 2007. Plus, there seems to be a lot of potential for the next several years. Next season, the team will be backed by a core of young players and nearly all of their key players will be returning.