The 11-8 Iowa State Cyclones are hosting the No. 22 Tennessee Volunteers on Saturday.
Iowa State is coming off of a 16-point away loss to Texas on Monday. The Cyclones only managed to score 57 points, considerably less than their 74.5 points per game average they've maintained this season.
The Volunteers, however, have won their last two games, beating South Carolina and Vanderbilt. They now sit at 14-5 on the season and are looking to continue their run to move up in next week's rankings.
Another top-25 team comes to Ames this weekend when No. 22 Tennessee visits. Looking forward to another full house! pic.twitter.com/MjaHVU4x5j

— Cyclone Basketball (@CycloneMBB) January 25, 2018
Iowa State's season
The good news for Iowa State is that the game is being played at home. The Cyclones have struggled away from home this season, losing all five of their away games. At home, however, they are 7-3.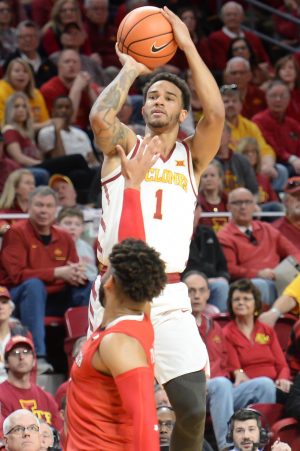 Key players
One player that has contributed to the Iowa State offense this season is Nick Weiler-Babb. The 6'5″ junior guard averages 7.2 assists per game. That ranks him eighth in the nation, behind the likes of Trae Young from Oklahoma and Devonte' Graham from Kansas.
Weiler-Babb also leads the team in rebounds, grabbing an average of 7.2 boards per game.
The Cyclones scoring has been led this season by freshman guard Lindell Wigginton, who averages 16.2 points per game.
While the Cyclones have been able to generate offense for the majority of the season, they've struggled to keep their opponents from scoring. They are averaging 73.3 points allowed per game; that ranks 213th among Division I teams and is only one point less than they average scoring per game.
Tennessee's season
Tennessee boasts the better record between the two teams but has only scored 2.6 more points per game than the Cyclones.
Grant Williams
Tennessee's scoring is led by 6'7″ sophomore forward Grant Williams, who averages 16.5 points per game this season.
Williams ranks fifth in the country in post-up points per game this season, scoring nearly half of his average points per game in the post.
Here's a closer look at the top post up scorers in college hoops this season. pic.twitter.com/hYj4pyXWD3

— Synergy Sports Tech (@SynergySST) January 26, 2018
Game details
The game will tip off at 4 p.m. and televised on ESPNU.