In a year where it seems like every team is beating each other and has holes to some extent, March Madness is almost certainly going to live up to its name and then some. But before games kick off, the selection committee had the tough task of deciding who should make the tournament and where to seed them all. After much deliberation, the bracket has been released.
The No. 1 Seeds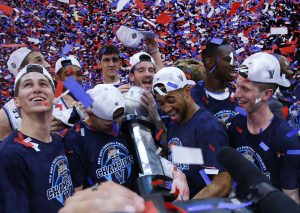 Virginia is the overall No. 1 seed in the tournament this year. The Cavaliers are 31-2 on the season and are coming off their second ACC Championship in five seasons. Virginia is matched up against the University of Maryland-Baltimore County. The Retrievers are America East Conference Champions and will enter the game with a 24-10 record.
The overall No. 1 team has won the tournament as often as it has been eliminated in the round of 32 and has reached the Final Four half the time.
Villanova, Xavier, and Kansas are the other three No. 1 seeds. 2016 champion Villanova will be facing the winner of the University of Long Island/Radford game. Xavier will be taking on the winner of North Carolina Central and Texas Southern, and Kansas will be playing the University of Pennsylvania.
Last 4 In
There were several bubble teams this year, so the battle for the last couple spots was tight. UCLA, St. Bonaventure, Arizona State, and Syracuse edged out the remaining bubble teams and were the last four lucky enough to make it in the tournament. UCLA and St. Bonaventure will face off in a play-in game tomorrow, with the winner having to match up against the Florida Gators in the first round. The winner of the Arizona State/Syracuse play-in game will take on TCU.
First 4 Out
Even in a field of 68 teams, not everyone was able to make it in. Baylor, Notre Dame, Saint Mary's, and USC were the first four teams to be on the outside looking in. Saint Mary's was left out despite going 28-5, and USC didn't receive a bid even after finishing second in the Pac-12. Notre Dame was the team knocked out of the tournament after Davidson won the Atlantic 10 Tournament title, according to Creighton athletic director Bruce Rasmussen, the chair of the Division I men's basketball committee.
Other Notable Surprises
The fact that Oklahoma was not only in the tournament, but in the regular bracket as a No. 10 seed, is a surprise to many people. The Sooners finished sixth in the Big 12 with an 18-13 record.
A notable team not in the tournament this year is Louisville. After the firing of head coach Rick Pitino, the 2013 champion Cardinals finished with just a 20-13 overall record and 9-9 conference record.