With spring football practices getting underway for the Florida Gators, players are grinding out at practice. The players have a lot to prove, especially with a new coaching staff. Quarterback Feleipe Franks and wide receiver Josh Hammond both expressed how their is a new mojo to the team going into spring ball.
Leadership Council
The coaches started a new Leadership Council, where every player voted who they wanted to be the eight leaders of the team. Both Franks and Hammond were two of the men voted on the council. The other players that earned the title were- defensive end Cece Jefferson, offensive tackle Martez Ivey, tight end C'yontai Lewis, defensive back Chauncey Gardner-Johnson, linebacker David Reese and athlete R.J. Raymond. In an interview, Franks even admitted he voted for Hammond.
Hammonds Feelings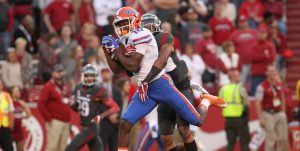 Hammond says that it means a lot for him to be recognized by his fellow teammates as a leader.
He also felt at ease when it was announced that Mullen would be running the show at Florida. Mullen recruited and coached Josh's brother Frankie Hammond when he played for Florida.
Hammond says that the receivers are excited with the new staffing changing and they are all are buying into helping one another.
Last season, Hammond had 18 receptions for 246 yards.
Franks Looking Ahead
Feleipe Franks has emphasized how the new coaching staff has given the team a chance to write a new narrative. Franks spent time evaluating what he could have done differently last year, but now focuses on not looking back. This off season Franks is trying to earn back his position at starting QB. New Florida head football coach Dan Mullen runs a read option which is different from the former offense by being more run heavy. Franks thinks he can eventually thrive in the new offense.
Last season, Franks had a 46.2% completion rate for 1438 yards with nine touchdowns.
Franks says he believes a lot of the younger guys (including himself) are going to "turn the curve" and play up to their ability. He says that he's constantly gaining more knowledge every year.
With how bad of a season last year was, Franks believes he can only improve from there. Franks says that he's already seeing improvements from the way Coach Savage does strength and conditioning.
Savage is ready. Making sure every player has Gatorade before practice. pic.twitter.com/4lSrqN7RSj

— Nick de la Torre (@NickdelaTorreGC) March 16, 2018
Spring Game
On April 14th at 3 p.m., you'll be able to see a glimpse of what to expect in the fall at the Orange and Blue game.