The 3-seed Tennessee Volunteers defeated the 14-seed Wright State Raiders 73-47 on Thursday to book their spot into the second round of the NCAA Men's Basketball Tournament. Here is the final call from the game:
Bringing Success back to the Program
The Volunteers finished atop a highly competitive SEC division alongside Auburn in the regular season. They then lost to Kentucky in the final of the SEC Tournament. So far, the Volunteers have carried their regular-season success into the tournament with a solid first-round win.
https://twitter.com/Vol_Hoops/status/974633950160175106
A Team Win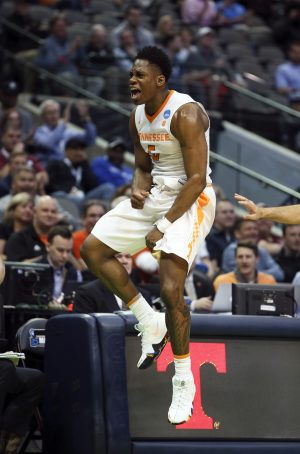 A leader on and off the court, sophomore forward Grant Williams has continued to perform for the Volunteers all season long. This game was no exception.
Williams put up 14 points and added nine rebounds to help Tennessee out-rebound the opposition 44-32. However, it wasn't all about Williams; the rest of the team made significant contributions to help defeat the Raiders.
Junior guard Admiral Schofield put up 15 points and 12 boards, despite shooting 6-15 from the field. Sophomore guard Lamonte Turner provided a lively spark off of the bench, scoring a game-high 19 points and providing nine assists.
That's been the attitude from the players this season: it's a team effort. Williams highlighted this after the game:
No Threes, No Problem
The Volunteers were able to get it done without the three-ball, shooting 5-18 from behind the arc. Instead, one of the key areas that separated them from their opposition was the ability to get to the line and make free throws. Tennessee made 14-16 from the line, while the Raiders made only 5-9.
Turner took a vast majority of the team's free throws, scoring nine of his 19 points from the line. Williams and Schofield had a combined three foul shots. They'll want to increase their attempts in the upcoming games.
Moving On
The Volunteers are set to face 11-seed Loyola-Chicago on Saturday. The game will tip off at 6:10 p.m. and televise on TNT.