In a fight for the Elite Eight, the Purdue Boilermakers face the Texas Tech Red Raiders at TD Garden in Boston. The No. 2 seed Purdue will tip-off against No. 3 seed Texas Tech at 9:57 pm.
Purdue
The Purdue Boilermakers are one of two No. 2 seeds still in the tournament. They have been under the high pressure of the tournament many times before. They are hoping to make it to the Elite Eight and beyond. Unfortunately, last year, Purdue lost to Kansas in the Sweet Sixteen. If guard Carson Edwards puts up his usual points per game and Isaac Haas is able to rebound with his injury, Purdue is a force to be reckoned with.
Isaac Haas' Injury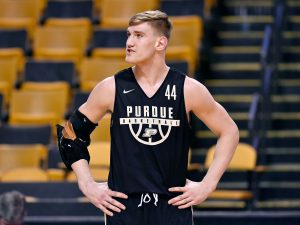 Starting center Isaac Haas, who stands at 7'2, fractured his elbow in the Cal Sate-Fullerton game last week. To the team's delight, Purdue Engineering has taken the issue into their own hands. The engineering students have been creating a brace that passes the NCAA player safety standards. Regardless of the brace, coach Painter believes he will be prepared to play. If he can lift his arms above his head to rebound, he can substantially contribute to the team's performance Friday night.
Texas Tech
Texas Tech was not in the tournament last year. After having an incredible season, the Red Raiders are here with a No. 3 seed. Coach Beard established in an interview that "nobody has more respect for Purdue than [they] do."  According to coach, the team is "expecting to have to play best forty minutes of the season to win this game and that's [their] objective."
Coaches Meet Again
Purdue coach, Matt Painter and Texas Tech coach Chris Beard have indeed met in the NCAA tournament before. Two years ago, Coach Beard led Arkansas-Little Rock to beat Purdue in an upset first round. Now, Beard hopes to beat the No. 2 seed again, but this time with Texas Tech.