The Florida State Seminoles are entering the Elite 8 for the 3rd time in school history. This comes after their 3rd straight NCAA tournament upset.
Ninth-seeded Florida State beat fourth-seeded Gonzaga 75-60 on Thursday night.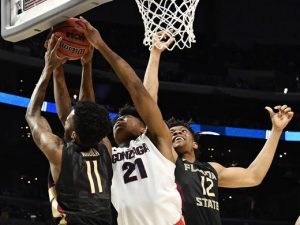 Dominant Defense
Once the Seminoles achieved a nine point lead in the first quarter, it became a challenge for the Bulldogs to catch up. FSU defense would not let up, pushing Gonzaga's offense into their worst performance in years. The closest Gonzaga came to FSU was within four.
Always the Underdog
Head coach of the Seminoles, Leonard Hamilton said "It's interesting that we're probably the only ones who believe that we're capable of doing this. It's fun because we're overcoming, we're always the underdog and we're clawing and scratching, and scratching and clawing."
https://twitter.com/Seminoles/status/977037517118754816
"We're going to spend a little time enjoying this victory tonight and we'll start giving Michigan our full attention maybe in two or three hours," says Hamilton.
Florida State will face Michigan in the Elite 8 at 8:49pm on Saturday. You can watch it live on TBS.