There has been one seat open on the bench for the Florida Gators Men's Basketball Coaching staff since March 22nd. That was when top assistant Dusty May took the head coaching job at Florida Atlantic University. Since May's departure, Head Coach Mike White has been searching for a new assistant coach to join the Gators. A little more than two weeks later, White had finally found one. The Gators announced on Sunday, April 9, that the basketball program hired Armon Gates as the new Associate Head Coach.
https://twitter.com/MikeWhiteUF/status/983125620816273408
Playing Career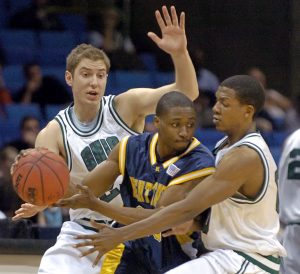 Armon Gates' played guard for Kent State from 2003-2007 and averaged 9.3 points per game as a senior. During his time there, Kent State had an overall record of 88-42, including four straight 20-win seasons. He finished his career with 200 three-point field goals made, tied for second in school history, and as a Mid-American Conference All-Academic selection his senior year. Gates was also teammates at Kent State with fellow Gator assistant coach Jordan Mincy.
Coaching Career
Gates started out as a graduate staff assistant at Western Kentucky in 2007. He then returned to his alma mater, Kent State, as an assistant coach for the 2008-2010 seasons. Gates helped the Kent State Golden Flashes earn a Mid-American Conference season title in the 2009-10 season. Gates also spent a season at TCU and two seasons at Loyola-Chicago as an assistant coach. He helped coach players to all-conference selections at both schools.
Gates has spent the last five seasons as an assistant coach on the Northwestern staff, joining when Chris Collins took over the Northwestern program in 2013. The Wildcats were 88-77 during Gates' time there, including a pair of 20-win seasons. Gates helped coach Drew Crawford to a 2013-14 All-Big Ten conference selection as well as bring in a top-30 recruiting class in 2014. Likely his greatest accomplishment however, would be coaching the historic 2016-2017 Northwestern team. This team earned the program's first ever NCAA Tournament bid and NCAA Tournament win.
Impact for the Gators
Mike White said he looked for a rising star in the industry to fill his staff, and he believes he found that in Armon Gates. White said, "He brings infectious energy and has won everywhere he's been. He has worked with and for some really great coaches and is a proven recruiter, and he will be a fantastic fit for our culture. His breadth of knowledge and experiences will benefit the Florida program in all facets."
Gates comes from a Northwestern team that held opponents to an average of 66.5 points per game, good for 38th in the country. The Florida Gators struggled defensively at times during the 2017-2018 season, and Gates will look to improve the Gators' scoring defense from 94th in the country.
Florida coach Mike White, on Armon Gates hire as assistant coach, "We conducted a national search and Armon's name kept coming to the top of the list."

— Kevin Brockway (@gatorhoops) April 8, 2018
Gates will also look to use his infectious energy to help the team on the recruiting trail. "I can't express how excited I am to be a part of the Gator Nation! The rich tradition of the University of Florida was too enticing to pass up," Gates said.