The Cleveland Cavaliers responded in a big way in game four as Lebron James scored 32 points to tie the series at two.
However, all the signs point to Indiana giving Cleveland a run for their money as no team has won back-to-back games in this series. The Pacers will have their work cut out for them though as two of the next three games will be in Cleveland. It also doesn't help that Lebron James hasn't lost a first-round playoff series in his last 12 previous appearances.
Back To The Drawing Board
Indiana had an opportunity to put the Cavaliers in a giant 3-1 series deficit in game four but fell behind early and was never able to recover.
Star guard Victor Oladipo scored 17 points in game four, on 5 for 20 shooting, his lowest point total of the series. Oladipo said postgame that he just missed simple shots and will have to re-group before game five.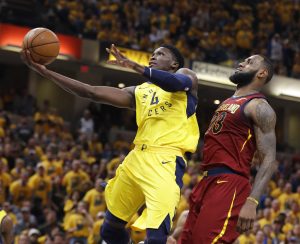 What may be the keys to the game for Indiana is getting to the free throw line and getting in transition. The Pacers only made eight free throws on Sunday compared to the Cavaliers 22. Indian also got beat when it came to fast breaks as they only scored seven points in transition compared to Cleveland's 17.
Lebron Taking It Upon Himself
It's hard to imagine where the Cavaliers would be without Lebron James.
James has carried the cavs over the course of the series, not letting a second pass. In the last games, James has played every minute of the second half. He talked about pacing himself in the 2nd half to be able to play the rest of the way.
Lebron's scoring this postseason has been ridiculous. His 24 point performance in game one seems pitiful as he scored 46 in game two, 28 in game three and 32 in game five.
He finally got some help in game five as Kyle Korver showed up in a big way. The three-point specialist scored 18 points, making 4 of his 9 three-point attempts.
If the Cavaliers want to take a 3-2 advantage heading into game six, they will need another role player to step up and help Lebron carry the load.
Tip off from the Quickens Loan Arena is set to be at 7 p.m. with the game being televised on TNT.