The top-ranked Gator baseball team (39-11, 18-6 SEC) will host the 15th ranked Georgia Bulldogs (34-14, 15-9 SEC) for a big SEC series starting Friday at 6:30 p.m. Games 2 and 3 will take place Saturday at 1 p.m. and Sunday at 1 p.m. Friday and Sunday's games will be broadcast on SEC Network + and Saturday's game will air on SEC Network.
The Bulldogs
As the league race comes to a close, Georgia currently trails the Gators by three games with six to play.
The Bulldogs are entering the weekend series on a four-game winning streak after picking up a victory over Georgia Tech earlier in the week and sweeping Missouri last weekend.
Sophomore third baseman/closer Aaron Schunk poses a dual-threat to the Gators. He has a .314 batting average and is 1-1 with a 2.49 ERA and seven saves on the mound. Schunk is currently on his second 16-game hitting streak of the season. During this time, he is batting .368 and has 12 RBI. In SEC games, he is hitting .291 and is 0-1 on the mound with a 2.77 ERA including being six for seven in save opportunities.
Other top Bulldog hitters are senior outfielder Keegan McGovern, junior designated hitter Michael Curry, and junior first baseman Adam Sasser. McGovern is on the Golden Spikes Award Midseason Watch List and is hitting .315 with 13 home runs and 40 RBI. Curry has a .321 batting average with eight home runs and 43 RBI while Sasser's batting average is .338 and has eight home runs and 39 RBI.
Sasser has been Georgia's leading hitter in SEC play and is coming off a great performance in the Missouri series where he batted .538 with four home runs and 10 RBI. This performance earned him National and SEC player of the week honors.
The Gators
Florida is coming off its largest comeback in eight years with its win over USF in its midweek match up on Tuesday.
Junior Deacon Liput shined in the game, going 3 for 3 with a three-run home run and a bunt that turned into the game-winning play. Liput currently has a six-game hitting streak in which he is batting .500 with three home runs and seven RBI.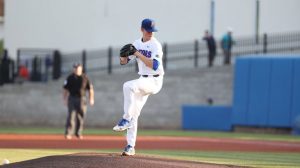 Senior JJ Schwarz is also on a six-game hitting streak in which he is hitting .458 with four RBI. In Tuesday's game, Schwarz went 2 for 4 with a double, single, and a walk.
Junior Brady Singer, who was named the SEC Co-Pitcher of the Week after throwing a complete-game shutout at Texas A&M, will take the mound to open the series on Friday. In his last four starts, Singer has allowed just four earned runs in 30 innings (1.20 ERA) while striking out 29 and walking six.
Series History
Heading in to the weekend, Florida leads the all-time series against Georgia 185-104-2. Under head coach Kevin O'Sullivan, the Gators have a 24-8 record against the Bulldogs.
Florida swept Georgia in Athens last season and have taken five straight series over UGA at McKethan Stadium.
Pitching Matchups
Fri. at 6:30 pm ET: Brady Singer (10-1, 2.33 ERA), RHP, Jr. vs. Chase Adkins (5-0, 4.12 ERA), RHP, Sr.
Sat. at 1 pm ET:  Jackson Kowar (8-2, 2.80 ERA), RHP, Jr. vs. Emerson Hancock (6-3, 4.09 ERA), RHP, Fr.
Sun. at 1 pm ET: Jack Leftwich (4-2, 3.96 ERA), RHP, Fr. vs. Kevin Smith (6-1, 3.55 ERA), LHP, Jr.
https://twitter.com/GatorsBB/status/994919048185090048