No. 6 Florida State swept No. 3 UCLA this weekend, 3-1 in the first game and 12-6 in the second game. FSU will now advance to the Championship Series for their first game tonight. This is history-in-the-making for Florida State's program. It is their first appearance in the Women's College World Series finals.
Making History
After the Seminoles win against UCLA this past weekend, they are the first ACC team to make the finals. In postseason elimination games this year, the Seminoles are currently 6-0. Not only did Florida State make history, but they also set a new ACC record.
For the first time in school history, @FSU_Softball will play for the national title! #WCWS pic.twitter.com/8woUwA42tT

— NCAA Softball (@NCAAsoftball) June 4, 2018
In the bottom of the second inning in Sunday's game, Morgan Klaevemann lined a two-out double into the left field corner. Little did she know, it would be the 108th double of the season for Florida State. This set an ACC single-season record, exceeding Notre Dame's total in 2014, of 107.
Aside from Klaevemann setting a record in Sunday's game, Jessie Warren followed with another record soon after. Warren had a two-run home run to center, prompting her 82nd career home run. This moved her into a tie with Michigan's, Sierra Romero, for ninth in NCAA history. The two RBIs raised her total to 271, surpassing Kasey Cooper for eighth-most in NCAA softball history
Key Players
Three essential hitters for the Seminoles are currently senior Jessie Warren, junior Carsyn Gordon, and freshman Sydney Sherrill. Warren, who plays third basewoman, has a batting average of .394, 20 home runs, and 68 RBIs. Gordon, utility player for the Seminoles, has a batting average of .313, 12 home runs, and 51 RBIs. Lastly, 2B Sherrill has a batting average of .376, 12 home runs, and 58 RBIs.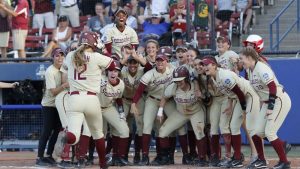 Two vital pitchers for Florida State throughout their pre and postseason series have been senior Kylee Hanson and junior Meghan King. Hanson won ACC Pitcher of the Year this year for her outstanding performance. King has had an incredible season as well, improving to 24-6 in the complete-game victory on Sunday. She dispersed seven hits, one unearned run, two walks and to top it off, 10 strikeouts.
Up Next
The Florida State Seminoles will have their first game of the Women's College World Series tonight against the Washington Huskies. The two teams will play best-of-three games for the National Championship title.
It's a Championship Monday here in OKC! #Opportunity #IDK #WCWS pic.twitter.com/OweQExsBqq

— FSU Softball (@FSU_Softball) June 4, 2018
The game will be broadcasted on ESPN tonight and is set to start at 7 p.m.. It will take place at the USA Hall of Fame Stadium in Oklahoma City, OK.