After a successful 13 season spell as the University of Florida Softball head coach, Tim Walton is expected to stick around for another decade after signing a 10 year contract extension.
Coach Tim Walton is proud to represent the Florida Gators for the upcoming 10 years sending a message to every recruit, the players, Alumni, to his family and to the softball community which reads "…we are Gators and we are going to be Gators for a long, long time. We're thrilled to be here, thankful for the commitment, and ready to put our head down and keep on working."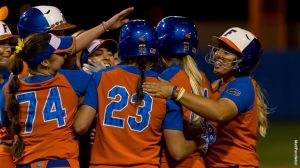 Here is a long list of stats and achievements since Coach Walton's arrival in 2006:
Walton is the most successful coach in terms of winning in the school's history with a record of 722-149 (.829).
He has led the program to 10 50-win seasons.
He averages 56 wins per year.
Has been the SEC Coach of the Year in 5 different occasions.
Has guided UF to 7 of it's 8 SEC Regular Season Championships, winning 4 of those in the last 4 consecutive years. The second coach to ever accomplish this in the league's history.
Led the Gators to win the National Championships in 2014 and 2015. Florida became the third program in the nation to win two consecutive titles.
His teams have also broken 363 Florida records, which includes NCAA single-season records for most wins (70) and walks (360).
Under his guidance, the Gators lead the nation with 40 National Fastpitch Coaches Association (NFCA) All-American honors.
Tim Walton has also proven be a players coach getting the best out of the players he's coached. This shows by the impressive list of individual student-athlete accolades that have been achieved under his spell as coach.
3 WCWS Most Outstanding Players (Tied most since 2006)
23 WCWS All-Tournament Team Selections (Most since 2006)
63 NFCA All-Southeast Region Selections
2 SEC Female Athletes of the Year
5 SEC Pitcher of the Year honors (Tied most since 2006)
5 SEC Player of the Year honors  (Tied most since 2006)
1 SEC Freshman of the Year
4 SEC Tournament Most Valuable Players (Most since 2006)
27 SEC Tournament All-Tournament Team Selections
59 All-SEC Team Honors (Most since 2006)
23 SEC All-Defensive Team Honors (Most since 2008)
29 SEC All-Freshmen Team Selections (Most since 2006)
Coach Walton's job at the University of Florida has been "phenomenal" according to the Athletic Director Scott Stricklin and added that "it's good for the University of Florida for Tim Walton to be our softball coach for as long as he wants to be."