This season, the Florida Gators baseball program is looking to repeat as NCAA Division I champions. Florida's recent success is even more impressive considering how many of their players were drafted this week.
Gators Drafted In The First Two Days
The 2018 MLB Draft kicked off on Monday, with the draft concluding on Wednesday. The Gators saw three of their players drafted by two different teams on the first day of the draft.
Third baseman Jonathan India was selected fifth overall by the Cincinnati Reds in the first round. Starting pitchers Brady Singer (18th overall) and Jackson Kowar (33rd overall) were picked up by the Kansas City Royals on Monday as well.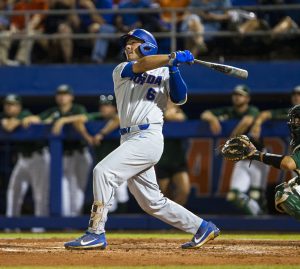 The next day, catcher J.J. Schwarz was drafted 233rd overall by the Oakland Athletics in the eighth round. A couple of rounds later, second baseman Deacon Liput was taken by the Los Angeles Dodgers.
Byrne and Horvath Drafted on Day 3
https://twitter.com/GatorsBB/status/1004404508930265091
Michael Byrne became the second Gator to be selected by the Reds in the draft. Byrne was drafted 409th overall by Cincinnati in the 14th round on Wednesday.
This season, the junior right-hander had 15 saves for Florida in 31 appearances. Byrne also had a 1.79 ERA in 50.1 innings pitched while giving up only three home runs. For the second time in his collegiate career, Byrne was named as a finalist for the National Collegiate Baseball Writers Association Stopper of the Year award.
#LilNicky got drafted by the @Orioles!

The senior OF/LHP is the seventh #Gators player taken in the 2018 #MLBDraft. pic.twitter.com/I9OEmaMVVF

— Gators Baseball (@GatorsBB) June 6, 2018
The seventh, and final, Gator to be picked in the draft was Nick Horvath. The outfielder/left-hander was drafted by the Baltimore Orioles 745th overall in the 25th round. Horvath appeared in three games on the mound and pitched in 3.2 innings. The senior gave up four runs, which inflated his ERA to 9.82 on the season.
At the plate, Horvath had a .275 batting average with six home runs and 32 RBIs. All of those are career-highs for Horvath, who has played in 175 games during his career.
What's Next:
All seven of the Gators drafted this week will have to gear up for the first game of the Super Regionals on Saturday. WRUF will have coverage of the Florida Gators in the Super Regionals, starting with Game 1 against the Auburn Tigers on Saturday.