Oklahoma City Thunder guard and former Florida Gators men's basketball player Corey Brewer held his annual Back2Back Basketball Camp for the ninth consecutive year. Proceeds for the camp go towards will be donated to the University of Florida Diabetes Institute. Brewer created the "Corey Brewer Fight Diabetes Fund" to provide funds for diabetes patient programs and education.
Forever a Gator
When asked why Gainesville as the host site of his camp, without hesitation, Brewer responded with a child-like smile, "Because of the best university in the world. I went to Florida, I tell everybody it's the best place in the world. I had probably the best three years of my life here."
In fact, the former national champion says he got the name for his camp due to the success he had as a Gator. Winning two back-to-back national titles while at Florida in 2007 and 2008, coming up with a name for the camp was a no-brainer.
It was also without question as to what he wanted to do with the proceeds made from his camp. Brewer's father fought with diabetes and his mother is still battling the disease. So for him, the back story of the camp's formation is very personal.
Summertime Fun
Although Brewer did attend many high school basketball camps growing up, attending an NBA player's camp was not financially applicable. He is now going on his 10th year hosting his own camp. Brewer admitted it put everything into perspective, mentioning that his platform is the reason he is the first one to arrive at camp and the last one to leave.
Every year, camp attendance increases, but that wasn't always the case. Brewer said he remembers when he first began and there were only about 50 signed up and he was begging for more to attend. Fast forward and he is selling out, including this year's camp.
Camper's Perspective
There's no doubt whether the campers were enjoying themselves at Corey Brewer's camp. There were big smiles everywhere you turned. Collin Haas has personally seen the growth of the camp as he himself has grown. The 15-year-old has attended every camp since the inaugural summer and says he has noticed a change in Brewer. He noted he is more involved with drills and interacts with the campers a lot more.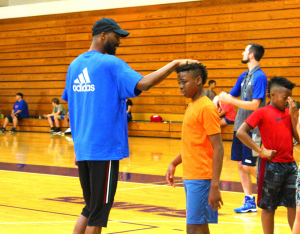 Having a good time seemed to be the consistent theme among camper's. For first timer Max Kaplan the equal time allotted for drills and competition allows for a lot of fun. Kaplan said he feels as though this combination makes Brewer's camp different from others he has been too.
Although open to both girls and boys, the majority of campers were male. However, that did not discourage 16-year-old Lauren Shepherd from attending and taking advantage of the competition.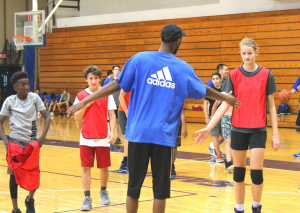 Shepherd [pictured above] aspires to play collegiate basketball upon graduation. For the six-foot-five-inch junior, the main reason she came back for the second summer in a row was because of Brewer and the coaching staff on hand. Also, because of the fun she had learning new techniques and drills, which she felt were applicable to the game.
No mercy even for the little ones! @TheCoreyBrewer dunks on a camper at his annual Corey Brewer Back2Back Camp. @ESPNGainesville pic.twitter.com/e9gigljNRB

— Briana Maxwell (@Bree_Max03) June 26, 2018
When asked about their strategy before playing one-on-one with Brewer, many of the campers either said they did not have one, they just didn't want to get their shot blocked or get dunked on. That same doubt didn't hold back the kid in the above video from trying to contest the dunk.