Sam Darnold may only have been absent from the New York Jets' training camp for three days; but for some fans, that may have felt like a lifetime.
None of that matters anymore. On Monday, the Jets' quarterback-of-the-future ended his brief contract holdout, putting pen to paper on a fully-guaranteed four-year, $30.25 million contract.
https://twitter.com/BleacherReport/status/1023996253888241664
Now, the fun begins.
Despite receiving first-team reps in his first practice, Darnold has some make-up work to do. And while coaches are confident of his ability, nothing is guaranteed for the 21-year-old gunslinger; not even a second-string spot on the depth chart.
"The competition's been underway, it just didn't start today. It started Thursday when we reported for camp," Jets head coach Todd Bowles said. "He's got some work to catch up and do. Throughout the course of preseason, that'll take care of itself."
Josh, Teddy and Sam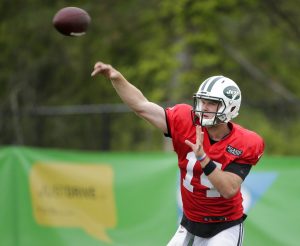 One thing's for sure: The New York Jets should have a quarterbacking battle on their hands.
Speaking to reporters, Bowles noted that his team already has a working depth chart in place. Incumbent starter Josh McCown currently tops the list, while new signing Teddy Bridgewater is set for backup duty.
As is, Darnold slots in at third-string. But given how each quarterback's showings through camp thus far, things could quickly change.
NJ.com's Darryl Slater has tracked each of the three signal callers' performances through the opening stages of training camp, and neither either of them have particularly distinguished themselves. In his first day back, Darnold notched five completions on eight attempts, heaving a pair of touchdowns and an interception. McCown, on the other hand, has gone 34-of-57 passing with the first team, while Bridgewater has gone 32-of-50 with the backups. The 25-year-old Bridgewater has two touchdowns to McCown's one, but neither quarterback has yet to throw an interception.
With 10 days until their preseason opener against the Atlanta Falcons, there's still time for one of the group to pull away. And despite of his holdout, Darnold should still get a chance to prove himself against live competition.
"He had enough time to run out here and practice," Bowles said, "so yeah, he'll probably have enough time to play in a preseason game.
"We'll see what he learned, we'll see what he applies and we'll go from there."