The Miami Dolphins and the Jacksonville Jaguars will play their third preseason game on Saturday, Aug. 25. The third preseason game is like a dress rehearsal– many players are fighting to secure their spot on the final roster. For the Dolphins and the Jaguars, this is no exception. However, both teams are in different places as they prepare for the start of the season in just two weeks.
One of the key differences between the two teams is the state of their offenses, in particular, their quarterbacks.
Jaguars Offense is Continuing to Improve
It was just last year that QB Blake Bortles was fighting for the starting quarterback position but was benched for the third preseason game. Now, he's starting for the Jaguars. Bortles in an interview reflects on his situation last year and how he prepares to deliver this season.
Dan Marrone, Jaguars head coach, believes that Bortles and the rest of the offense will be able to play well during the regular season.
Bortles is continuing to improve for Jacksonville during the last two preseason games. In their previous matchup against the Minnesota Vikings, Bortles completed 12 out of 20 throws for 159-yards, and he secured a 14-yard gain to help RB Leonard Fournette's 1-yard gain.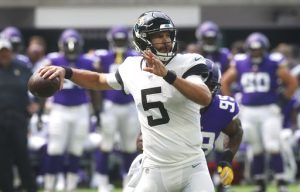 The Jaguars will host the Atlanta Falcons on Saturday, Aug. 25 at 7 p.m.
Miami's Offense is Unclear
As the Dolphins prepare for Saturday's game against the Baltimore Ravens, there is still a lot of speculation on Miami's quarterback situation. For the first time since December 2016, Ryan Tannehill is back on the field. Now, back and focused on delivering an incredible season for the Dolphins, Tannehill said in an interview that he only thinks about his job when he's playing.
However, it is unclear who the other quarterback will be on the final roster. During Miami's last game against the Carolina Panthers, David Fales was 1 for 6 and had one interception. His poor performance gave Brock Osweiler a chance to secure the spot. But, nothing is clear yet.
The Dolphins have two more games to pull their team together before the season starts. Dolphins head coach Adam Gase says that he is not focused on the solidifying the roster, but rather the last two preseason games.
Coach Gase isn't focused on final roster decisions, he's locked in on the last two preseason games.

Full Episode: https://t.co/hBdE0N0Ql4

Sound Bites X @BaptistHealthSF pic.twitter.com/NKune1r5NI

— Miami Dolphins (@MiamiDolphins) August 23, 2018
Saturday's game against the Baltimore Ravens will prove to be an indicator on where the Dolphins stand. After Miami's last game against the Panthers, Tannehill said he was disappointed in the mistakes made but hopes that this was a learning opportunity.
The Dolphins will host the Baltimore Ravens on Saturday, Aug. 25 at 7 p.m.