Odell Beckham Jr. has agreed to a contract extension.
New York Giants star wide receiver Odell Beckham Jr. has agreed to stay in New York in a five-year extension worth $95 million with $65 million guaranteed. This deal tops Tampa Bay Buccaneers receiver Mike Evans $82.5 million contract making Beckham the highest-paid receiver in the NFL.
"Honestly I just don't even know how to explain it," OBJ said when asked about his payday. "I don't know if its payday, I don't know – its a combination of everything. You've worked all your life to get to this point and its finally here. I have to thank Mr. Mara, Steve Tisch, Mr. Gettleman, Coach Shurmur, Eli, and all the guys I have played with in the past years. Also, everyone that has supported me through this – my mom, my dad, my family." "Its just such an amazing feeling."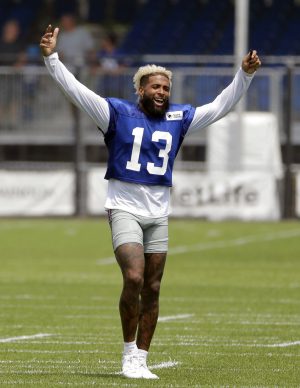 Last year Beckham only played in 4 games of the regular season before receiving season-ending ankle surgery. But for the previous three years of his career, OBJ has made it clear he is the most dominant in his position. He has played in three pro bowls, 313 catches for 4,424 yards and 38 touchdowns in 47 games. The No.12 draft pick in the 2014 class was also the quickest receiver in NFL history to reach 200 receptions and 3,000 yards.
After breaking his ankle and trade rumors coming in around March, Beckham had his doubt about any contract extension happening any time soon. But after electing not to wage a holdout, and attending most offseason workouts and also attending mandatory minicamp and training camp, negotiations on a new deal sparked back up in the final days of July.
"Now that it's behind me and there are no worries, it feels like a weight lifted off my shoulders," Beckham said.
Not Done Yet
But even after receiving a huge pay day OBJ says he is not done. The five-year veteran has hired his goals and responsibility for this year.
"As crazy as it sounds I feel like haven't done anything really since I've been here. I have goals for myself… Like I said, before I was even in the NFL, I wanted to be legendary," Beckham said. "My goal was always to be in the Hall of Fame, to win trophies, to be able to leave a legacy that will be remembered way past any money that you make."