The Florida Gators might have experienced a tough game day, however, some of the recruits were able to see past the performance on the field. Many of the recruits mentioned how much they liked the atmosphere in the Swamp.
2019 Recruits' Game Day Experiences
Trey Knox
Four-star WR, Trey Knox, is from Murfreesboro, TN. Knox explained that he'd like to take his UF official visit next weekend and is going to Tennessee on the 22nd to take an official visit. Knox says that he enjoys the "love" the Gators shows.
Also, during the game Knox was sitting right behind the field goal post and is certain the UF missed FG was actually good.
Aaron Beasley
Aaron Beasley, is a Tennessee commit and three-Star S, from Franklin, GA, who also was a teammate of Florida's freshman QB, Emory Jones. Beasley, says he likes how Gator's defense is run and also thinks he could help in the secondary, because the DB's don't have a deep roster.
Braylen Ingraham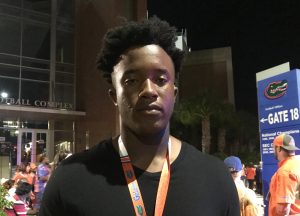 Four-star SDE, Braylen Ingraoam, is from Fort Lauderdale, FL. Ingraom mentioned that Florida is in his top-five school's and one of the reasons is because the coaches really like to keep in-touch with him. He says that he's thinking about taking an official visit to UF, either next week or on October 6th for the LSU game. Ingraham might also visit Alabama and Oregon.
Kaiir Elam
CB, Kaiir Elam, is a four-star from North Palm Beach, FL. Elam noted that he visited last year and he thought that this year's the atmosphere in the Swamp was more intense. He too would like to come back to visit for the LSU game.
Official Visit
https://twitter.com/JustinEboigbe/status/1038820545759006720
Justin Eboigbe, a four-star SDE was on his official visit during the UF vs Kentucky game.