It doesn't seem to matter to Dan Mullen that the last play of the game on Saturday was a fumble recovery that resulted in a touchdown for Kentucky. Mullen pointed out at the postgame press conference that as a coach regardless of if his team were to pull out a last-second win or not, he was still going to show up on Monday at practice with his team having the issues they showed throughout the entirety of the game. The major issues Mullen harped on was his team not being physical enough.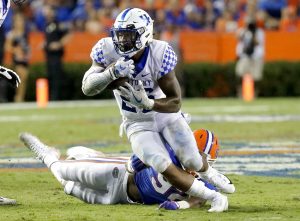 Physical toughness
After the loss on Saturday, Mullen has continued to stress the importance of physicality that his team needs to bring to the field. He said that this level of toughness needs to begin on the practice field.
The evidence for Mullen was clear after Wildcats running back Benny Snell and quarterback Terry Wilson ran through Florida for a combined 280 rushing yards. Mullen knows that this will be a process with his team, but he expects them to respond and improve.
Mullen said his team got, "punched in the face with adversity," and that challenge in itself is something he's looking forward to watching his team improve from. He said he knows he's asking his team to be adaptable to change but the response he's seen from them has been positive.
Gators off the field
https://twitter.com/GatorsFB/status/1039328925527105538
After the Gators loss on Saturday, they had another key player go out with an injury. Florida's sophomore cornerback Marco Wilson went down with a torn ACL. Mullen said that it is a possibility for him and his coaching staff to begin looking into moving guys around on their roster to fill this position. He hopes his team will adapt and perform as a result.
This week's challenge
Up next the Gators will take on the Colorado State Rams on Saturday. Mullen said they have guys who can certainly make some plays on their team. In addition, Colorado State is no stranger to SEC teams. The Rams took down Arkansas 34-27 this past weekend.
Colorado State is a team that plays for all 60 minutes, so Mullen said he needs to get his team ready to play for all four quarters.
The comeback
https://twitter.com/GatorsFB/status/1039306276470120448
Florida is hoping to get some of their defensive backs back on the field soon. C.J. McWilliams is expected to be back on the sidelines this week while junior linebacker David Reese is making progress in the training room according to Mullen.