Fitz-Magic
After two amazing performances to start off the season the Tampa Bay Buccaneers will have a tough decision to make when it comes to the quarterback position. Should they continue and go on with their hot hand, Ryan Fitzpatrick? Or should they let franchise quarterback Jameis Winston take back the starting job when he comes back from his three game suspension?
https://twitter.com/Buccaneers/status/1041674858835304448
In the first two weeks of the season Fitzpatrick has looked strictly dominant. Throwing for 819 yards, more than any other quarterback in the league, and throwing for eight touchdowns and one rushing.  Not to mention he has led the Buccaneers to their first 2-0 start since 2010.
Winston was suspended for three games after an NFL investigation was completed. He was suspended for groping an Uber driver back in March of 2016, which violates the NFL's personal conduct policy.
Support from teammates.
"He's been playing on fire right now," star wide receiver DeSean Jackson said on Monday about Fitzpatrick. "With the way the team is rallying behind him and just playing lights-out football, you have to kind of honor it. You cant take the hot man out. You got the hot fire right now. Its like the game 'NBA Jam' whoever's got the hot fire shot, you keep shooting."
But the decision isn't up to Jackson or the rest of the of Bucs roster, it's up to Head Coach Dirk Koetter. " I wont be getting into that because we'll worry about that when the time comes," said Koetter Monday afternoon. "Right now we are going to start working on Pittsburgh, and that's all that matters right now. Everything else is in the future because it can all change like that."
 Quarterback battle
Just enjoying the ride.

Relive our big win against the Eagles.#GoBucs | @Microsoft pic.twitter.com/AxIBMVlz8X

— Tampa Bay Buccaneers (@Buccaneers) September 18, 2018
Monday's night matchup can determine whether the Bucs will stick with Fitzpatrick or go back with the former Heisman winner. Last year Jameis Winston had the worst year of his career stats wise, playing only 13 games and throwing for 3,500 yards with 19 touchdowns and 11 interceptions. Winston has been labeled the Buccaneers franchise quarterback since drafted first overall in the 2015 draft but if Fitzpatrick can keep his hot streak Tampa Bay might have a new face under center.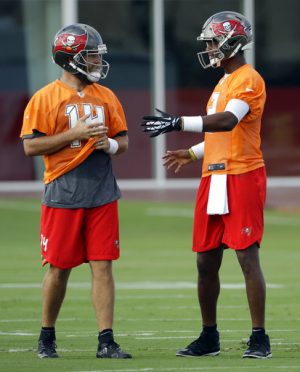 What's Next For the Bucs?
The soonest possible return for Winston would be week 4. In the fourth week the Bucs will take on the Chicago Bears in Chicago. However, the Bucs first focus is getting ready for their next game. Up next the Tampa Bay Bucs will take on the Pittsburgh Steelers in Tampa Bay on Monday night.