After going 9-3 in their pre-conference schedule, Florida will get it's first taste of conference play Friday night.
The No. 11 Florida Gators host the Mississippi Rebels (10-4) at 7 p.m. in their first of two SEC home matches this weekend.
Florida has yet to drop a match against Ole Miss in the Mary Wise era. They are 43-0 under Wise and 49-3 overall. The Rebels enter the O'Connell Center Friday night winning only one of their last four matches after starting the season 9-1.
https://twitter.com/GatorsVB/status/1042835786394226689
The End of the Preseason
"Just to see how our team has progressively gotten so much better throughout preseason is a huge testament to what we want to do this season," opposite hitter Thayer Hall said Tuesday.
The Gators ended their non-conference schedule hitting on-average .259 and limiting opponents to .152. Florida ranks in the top five in the SEC in both of those categories.
Head Coach Mary Wise on development during preseason:
Every Gator player saw playing time in Florida's first 12 matches. Wise said playing so many early matches allows for plenty of opportunities to get younger players in.
But, she said conference play will limit those opportunities and who plays will be determined in how they practice Monday through Thursday.
Hall said it's nice to have a weekend where the team stays home and doesn't need to travel.
Sophomore opposite hitter Paige Hammons said Ole Miss is a strong team just as any team in the SEC is.
"I'm sure they'll give us their best fight just as any team does," she said.
Emergence of Taelor Kellum
The senior middle blocker spent three years behind four-time All-American Rhamat Alhassan. With Alhassan's departure, Taelor Kellum now has plenty of opportunities to play.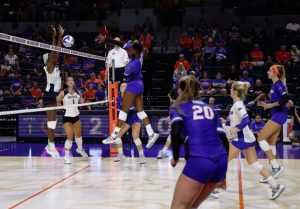 She's currently hitting .337 on the season, which paces all players with at least 100 total attempts. She is second on the team in blocks with 47.
Wise on Kellum's production:
"She's had an amazing start to her senior year and I'm super excited for her success throughout the rest of our season," Hall said. "Just knowing that she knows what she's doing I'm confident sitting beside her on the court and confident playing behind her."
Through 12 matches, Kellum's 46 sets played already surpassed her career total of just 38 going into the 2018 season.
Hammons Rising to the Challenge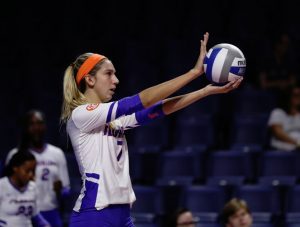 Hammons said she started off slow early in the season as she was adjusting to a new position being more involved for the Gators.
She hit at a .071 clip through Florida's first five matches. Hammons has since rebounded hitting at a .277 percentage in her last seven matches going into Friday night.
She said what helped her was working with the team and stepping up to take a bigger role on it.
"They're are a lot of new people on the court," she said. "But, everyone needs to take a step up because we are such a young team."
Hammons said she's made an effort to connect more with Florida's setters, focusing on what she does in practice in taking it into the game.
According to Hammons, the Gators's confidence level is good going into SEC play.
"I thought it was a great win over FSU on Wednesday and a great weekend. I think we're super excited to go into SEC play," she said.