If the Jacksonville Jaguars can pull off a win against the Tennessee Titans on Sunday, the Jags will have their first 3-0 start since the 2004-2005 season.
Not only would a victory against the Titans keep the Jaguars perfect on the year, but it would also snap a two-game losing streak against their division rival. Despite winning the AFC South last season, Jacksonville was swept by Tennessee and were outscored 52-26 in those games.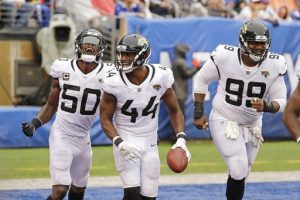 There are a few aspects of the game to keep an eye out for this weekend, including the status of an injured player. Here is a preview of Jacksonville's home matchup against Tennessee:
The Potential Return of Fournette
A major piece that may be added back to Jacksonville's lineup is running back Leonard Fournette (injured hamstring). The fourth overall pick in the 2017 NFL Draft missed last week's game against the New England Patriots.
Although Fournette has a tremendous skill set, there have been questions about whether or not the team is better overall with him on the field. Along with beating the Patriots, the Jaguars were nearly 12 yards better rushing per game last season in the three games Fournette did not play.
Starting quarterback Blake Bortles attributed Jacksonville's increased production to players stepping in to fill Fournette's role:
"I think more so than anything it's guys just stepping up and wanting to kind of pick up the slack for not having Leonard out there," Bortles said. "When we know he's not going to be out there, that's a big part of our game plan; he's a big part of our team and our offense. So we know we got to step up our game and play better to make sure we're picking all that up."
Maintaining Their Momentum
The Jaguars defense, known as "Sacksonville," has four sacks on the season, but they have been even more impressive in a couple of other statistical categories.
Jacksonville is only giving up 313 yards per game and has allowed 35 total points so far. Outspoken cornerback Jalen Ramsey said that his team is tough to take down if they are playing up to their potential.
"We feel like if we're at the top of our game, then we can't be beat," Ramsey said.
Even with their solid start to this year, Bortles emphasized the importance of facing an opponent in their division. Bortles recognizes that both teams are completely different this season and said that he is excited about the matchup.
"Total new year as far as they got a new coaching staff," Bortles said. "We're a new team, it's a new season. We won the division last year and got beat twice by them. It's the first divisional game, it's the divisional home opener. It'll definitely be an exciting one."
Other News and Notes
The Jaguars' most recent injury report:
The following players are expected to appear on today's @farahandfarah Injury Report. pic.twitter.com/PFhPCcAdT0

— #DUUUVAL (@Jaguars) September 20, 2018
Jacksonville's home game against Tennesse will begin at 1 p.m. on Sunday, with CBS having the coverage.