Florida is going into another road test on Sunday.
The No. 11 Florida Gators will look to make it nine straight wins and improve to 2-0 on the road in-conference Sunday afternoon as they'll face the Alabama Crimson Tide.
They swept the LSU Tigers in Baton Rouge Wednesday night.
Third sweep in as many games! #GoGators pic.twitter.com/Q4YylxQ4Qu

— Gators Volleyball (@GatorsVB) September 27, 2018
Florida has currently never lost to Alabama in the teams' overall history (44-0) where a majority of those wins came under Head Coach Mary Wise (42-0).
Last Meeting with Tide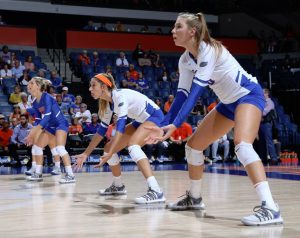 The last match between these two squads in Foster Auditorium ended in a 3-0 sweep.
Carli Snyder led the way with a double-double (15 kills, 11 digs) and notched her 1,000th kill during the match.
Rachael Kramer was second to Snyder with 13 kills of her own and Paige Hammons had third-most with seven.
Wise's team forced an opposing hitting percentage of .058 that Friday night. They recorded 10 total team blocks and forced 25 Alabama hitting errors.
Scouting This Year's Squad
The 2018 version of the Crimson Tide comes into the match receiving votes in the AVCA Coaches' Poll. Alabama started the season receiving votes before being ranked No. 25 in Weeks 3 and 4.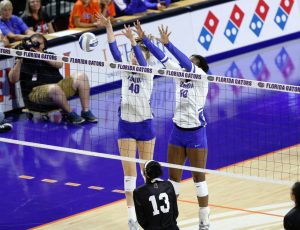 Alabama could prove to be a test for a Gators offense that ranks just 10th in the conference in kills per set but second in hitting percentage. The Crimson Tide are first in the SEC in digs per set (15.30) along with sitting third in both blocks (132) and blocks per set (2.44).
They are led defensively by senior libero Quincey Gary who leads the conference in digs and sits fifth all-time in Alabama history in that category. Middle blocker Hayley McSparin is also fifth in the conference in blocks.
Their offense might just test the Florida Gators as well.
They come in ranked seventh in the conference in hitting percentage (.246) and sixth in kills per set (13.35). Alabama's mark of .246 hitting currently sits as the sixth-best percentage in Crimson Tide history.
Two players to watch for the Tide are McSparin and her fellow middle blocker Cidavia Hall. Hall leads the conference in hitting at a .437 clip and McSparin is second to Hall on the team with a .309 percentage.
Meanwhile, opposite hitter Ginger Perinar leads the Tide in kills with 183 and is ninth in the SEC in that category.
How to Tune In
Where: Foster Auditorium, Tuscaloosa, Alabama
When: 2 p.m., Sunday, Sept. 30
What channel/station: SEC Network+ (TV) and ESPN 98.1FM/850AM (Radio)