Outside of the SEC, there are a few marquee college football games to pay attention to this weekend.
The No. 9 Oklahoma Sooners will be on the road against TCU after losing in a shootout to Texas a couple of weeks ago. Penn State is looking to rebound after suffering close losses in their last two games.
Here are a few other notable matchups to keep an eye out for:
#24 Michigan State vs. #6 Michigan
Both Michigan (6-1) and Michigan State (4-2) are coming off conference wins against ranked opponents last weekend. The Spartans beat Penn State on the road 21-17, while the Wolverines beat Wisconsin 38-13.
Since Jim Harbaugh became head coach of Michigan, his teams have gone 1-2 against their in-state rival. Harbaugh's next game against the Spartans will be crucial in his Wolverines' quest for winning the east division of the Big Ten over Ohio State (7-0).
Along with speaking about the significance of this week eight matchup, the fourth-year coach said his team will need to be prepared for any trick plays Michigan State may run:
"Always on alert, in terms of trick plays," Harbaugh said. "Watching the tape… that's a special focus to be on alert for them."
#3 Clemson vs. #16 N.C. State
For N.C. State, a win against Clemson on Saturday could propel them to a first-place finish in the ACC Atlantic.
The two teams are undefeated heading into this game, though neither of them has played against a school that was ranked at the time of their game. With that changing this weekend, Clemson head coach Dabo Swinney talked about what Saturday will mean for the programs.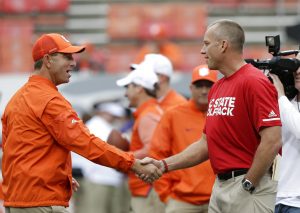 "This is going to be a big game," Swinney said. "They're all huge, as we know, but there are not many undefeated teams out there. You got two of them facing off in [DeathValley] on Saturday. You best believe no team wants to lose. You're going to have two teams that are going to be passionate about winning."
Although the Tigers and Wolfpack have each allowed less than 17 points per game on the season, this game could feature offensive explosions on both sides. N.C. State averages 33 ppg and 480.2 total yards, while Clemson puts up 42.2 ppg and 531 total yards per game.
#25 Washington State vs. #12 Oregon
In the history of College Gameday, the crew has never been in Pullman, Washington, for a Washington State home game. That is until Saturday:
BREAKING NEWS: @CollegeGameDay has selected its location; In the shadows of Martin Stadium, under the watchful eyes of the Cougar Pride Statue, on the corner of Stadium Way and Ferdinad's Lane…come make history this Saturday! #GoCougs #DuckHunt pic.twitter.com/wU9DCaScdb

— WSU Cougars (@WSUCougars) October 16, 2018
The Cougars are 5-1 this season (2-1 in the PAC-12), with their only loss being against USC on the road in week four. Oregon has the same overall record and conference record as their divisional opponent, which makes the game between the two even more important.
Quarterback play on each side will be one of the determining factors in who comes out victorious.
Justin Herbert, who is projected to be one of the top picks in the 2019 NFL Draft, has over 1,600 yards this season with 17 touchdowns against just five interceptions.  Washington State's Gardner Minshew, on the other hand, has been impressive as well, with 2,422 and 19 touchdowns.
With both teams having an average north of 40 ppg in 2018, this figures to be another matchup that will be dominated by offensive firepower.
Game times
Michigan at Michigan State in East Lansing, Michigan, will begin at 12 p.m.
N.C. State at Clemson in Clemson, South Carolina, will kick off at 3:30 p.m.
Oregon at Washington State in Pullman, Washington, is scheduled to start at 7:30 p.m.