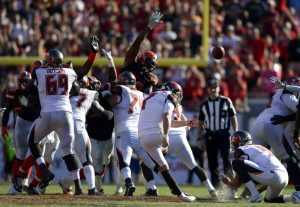 The Cincinnati Bengals will host the Tampa Bay Buccaneers on Sunday at 1 p.m. at Paul Brown Stadium.
The Buccaneers will look for a road win to get back above .500 after a win over the Cleveland Browns in their last outing.
Setting the scene
The Bengals look to regroup after losing 45-10 to the Kansas City Chiefs last Sunday.
"I'm confident in this team.. We have full confidence in them and have seen it happen. That's why this is the ultimate team sport and you have to trust everybody and have to play for each other. We're going to get this thing back on track," said Bengals Quarterback Andy Dalton 
Tampa Bay's offense could challenge Cincinnati as the Buccaneers lead the NFL in total yards with 449.5 per game and in passing at 376.8 yards.
Since his return to the lineup, Buccaneers quarterback Jameis Winston has totaled 905 yards passing.
For Sunday's matchup, Winston said "We got to beat their coverage."
Buccaneers sign Kevin Minter
The Tampa Bay Buccaneers signed veteran linebacker Kevin Minter on Tuesday.
We have signed LB Kevin Minter, a sixth-year NFL veteran who has logged 44 starts over the last four seasons.#GoBucshttps://t.co/BWqeapdBjP

— Tampa Bay Buccaneers (@Buccaneers) October 23, 2018
Minter spent the preseason with the Jets and the 2017 season with the Bengals, when he racked up 32 tackles in nine games.
Beengals-Buccaneers connections
Bengals head coach Marvin Lewis and Buccaneers head coach Dirk Koetter met when they both played for the Idaho State Bengals.
They've kept their friendship since college and still remain close as they still keep in close contact since they were teammates from 1978-80.
"Yeah. I get the Idaho State guys this week. He had them all last year, now I get them back this year. Lucky me," Lewis said during Monday's press conference.

Where to Watch
Sunday's matchup will be broadcasted on FOX at 1 p.m. and will also be streamed on the FOX Sports Go App.