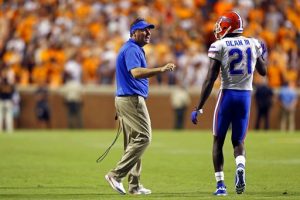 After coming off a disappointing loss to the Georgia Bulldogs, the Gators look to bounce back this Saturday as they take on the Missouri Tigers.
The Gators are currently second in the SEC East standings with a 6-2 overall record and a 4-2 conference record. They sit only one game behind the SEC East leaders Georgia and Kentucky. The Gators have two remaining games against SEC opponents and this weekend's matchup against Missouri comes at the right time for Florida.
The Tigers have been struggling in conference play this season and have not won a conference game up to this point in the season. Head coach Dan Mullen is looking forward to returning and playing the next three games at The Swamp.
Mullen believes that this homestand is just what his team needs to get back beating conference foes.
Locking Down on Defense
Last year when both teams squared off, the Gators were able to hold Missouri's offense to just 14 points. This is an aspect of the game the Gators were lacking last weekend against the Bulldogs.
Over the last week defensive coordinator, Todd Grantham, has been stressing to the defensive unit on limiting the opportunities to score for the opposing offense. Grantham mentioned that the team must be more alert and aware on defense this weekend to not repeat the same mistakes as last week.
One of the players Grantham mentioned that has been making an impact on the defensive side is Trey Dean III.  Dean is a freshman defensive back and has seen his fair share of action on the field and could be a factor in the matchup this weekend.
Grantham believes that the more in-game exposure Dean receives, the quicker his development and role will increase on the team.
Ranked at No. 11 in the College Football Playoff Rankings, this game is crucial for the Gators in terms of positioning for a possible New Year's Six bowl.
Kickoff for this weekend's game is at 4 p.m.