In his press conference on Monday afternoon, Florida head football coach Dan Mullen discussed the Gators disappointing performance against the Missouri Tigers this past Saturday. He then focused on discussing the Gators quarterback situation.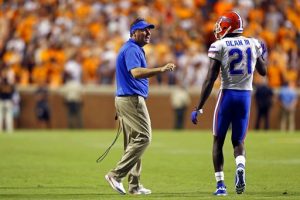 The Struggles Against Missouri
Feleipe Franks and the Gators' offense struggled to get a rhythm going against the Missouri defense. In an attempt to boost the Florida offense, Franks was benched and backup quarterback Kyle Trask was put into the game. 
Despite the quarterback switch in the third quarter, the Gators failed to move the ball successfully on offense. 
Mullen discussed how Franks and Trask had similar struggles against the Missouri defense. Both quarterbacks struggled to complete passes and get points on the board.
The Gators' performance against Missouri was a reflection of where they are as a team, according to Mullen. He continued to mention that the team is not at a level where they can recover from a poor first-half performance.
Mullen stated that his team needs to find a way to move forward from the Missouri loss and regain the competitive edge. An edge that led the Gators to victory over teams like LSU and Mississippi State.
Continue to compete everyday. #RelentlessEffort pic.twitter.com/Tmk09t7Ch9

— Gators Football (@GatorsFB) November 5, 2018
The Quarterback Situation
The inconsistency of Franks throughout the season has led many to push for a quarterback change. Especially for this Saturday's game against the South Carolina Gamecocks.
When comparing Franks and Trask, Mullen stated that the biggest distinction between them is Franks' arm strength and Trask's physicality as a runner. The biggest advantage for Franks is his experience as a starter.
When asked about the possibility of starting freshman quarterback Emory Jones, Mullen said that it would be an injustice to start Jones. He believes it wouldn't be fair to start him before he was completely ready and could impede his development as a quarterback.
The hesitation about starting Jones may stem from Mullen's belief that Franks was placed as a starter too soon. Mullen highlighted the importance of confidence at the quarterback position and that starting a quarterback too soon can impact their confidence.
Throughout the season, Mullen has expressed his belief in Franks. However, he stated that he has seen Franks struggle to overcome bad plays. Mullen will make his decision on who will start this week at practice.
Mullen and the Gators look to bounce back from their loss to Missouri. They look to defeat former head coach Will Muschamp and the South Carolina Gamecocks this Saturday in the Swamp. Kick off is set for noon.