On Monday Tampa Bay Buccaneers, head coach Dirk Koetter announced that he will be sticking with the 14-year veteran Ryan Fitzpatrick as the starting quarterback going into week 11.
Ryan Fitzpatrick will start next Sunday against the Giants, Dirk Koetter reveals.

— Scott Smith (@ScottSBucs) November 12, 2018
Back to the Fitzmagic
Fitzpatrick failed to produce a touchdown this week and forced three turnovers in the Bucs 16-3 loss to the Washington Redskins. Earlier in the season Fitzpatrick looked liked he couldn't slow down throwing for 11 touchdowns and over 12,000 yards in his first three games while former starting quarterback Jameis Winston served a three game suspension. But lost his starting job in week 6 when Winston took over the starting position for the game against the Bears. Winston got benched two games later and Fitzmagic reappeared throwing for two touchdowns in his next two games as the starting quarterback.
"We're going to go with Fitz this week," said Koetter. "I just think he still gives us the best opportunity right now. Turnovers are killing us, we're minus-19 (in turnover differential), last in the league. Thirteen turnovers and no takeaways in the last four games. That's by far the No. 1 thing that's hurting our team."
More Football left to be played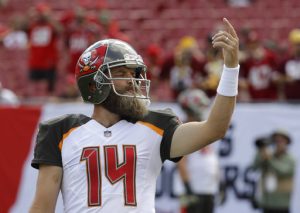 Koetter still believes that his team can turn things around. The Bucs haven't made the post season since 2007 and their chances aren't looking good for this season but coach Koetter is optimistic.
"We're barely past the halfway point in the season. There's a lot of football to be played. I don't think it's out of the realm of possibility that we can turn this thing and get on a little bit of a win streak, We got to play better football. More consistently across the board. Our defense took a nice step in that direction yesterday. I still think if we can put it together on both sides of the ball, we'll be all right."
If the Bucs want to turn their season around their next two games are the perfect opportunity to do so. This week they head to New York to face a 2-7 Giants team. The following week they face the 2-8 San Francisco 49ers. If Fitzmagic is to make another appearance and lead the Bucs to a positive record there maybe a spot open for them in NFC wildcard game.