The Pittsburgh Steelers defeated the Jacksonville Jaguars 20-16 Sunday afternoon at TIAA Bank Field in Jacksonville. Jaguars running back Leonard Fournette was able to finally play back at home after being injured for weeks.
Despite the loss, Fournette showcased his athleticism like he was never even injured.
The Injury
Fournette has been dealing with a hamstring injury this entire season. He said he "felt his hamstring pop" during the first half of the Jaguars 20-15 win against the New York Giants in week one. Fournette was then listed as questionable and did not play the following two games against the Patriots and the Giants.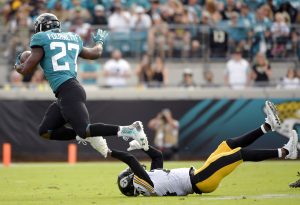 He returned back to the field during week four when the Jaguars beat the New York Jets 31-12. It was during this matchup that Fournette aggravated his previous hamstring injury.
Fournette was ruled out for the next four games.
His Comeback
He just returned back to the field last week when the Jaguars lost 29-26 to the Indianapolis Colts. In his return, Fournette ran for 53 yards and one touchdown.
Fournette's return is already making a difference in Jacksonville. In the Jaguars loss against the Steelers today, Fournette had 28 carries for 95 yards and one touchdown. That touchdown being the only touchdown of the game.
Fournette launched himself in the air from the 4 yard line to score and gave the Jaguars a 16-0 lead with 2:09 left in the third quarter.
Steelers and @_Fournette going over the top for a TD, name a more iconic duo.#DUUUVAL pic.twitter.com/x1LSgdSdbS

— #DUUUVAL (@Jaguars) November 18, 2018
Fournette also caught two passes for 46 yards. He did struggle against the Steelers defense in the second half, but shined in the first.
Jaguars quarterback Blake Bortles says Fournette and the other running backs ran hard.
Fournette was a key player the Jags were missing most of this season. The Jaguars have looked unrecognizable this season when compared to their performance last season.
It could be argued that Fournette is the reason for it. With Fournette back, the Jaguars might be able to turn their losing season around.