The Florida vs Florida State game is always a rivalry matchup that receives a lot of hype in the state of Florida. But this year there's even more than just the rivalry win that these two teams are playing for on Saturday.
For Florida, the team is in contention for the New Year's Six Bowl Game. The Gators have also lost to the Seminoles for five straight years, making this the longest winning streak for the Seminoles against the Gators since 1958. Florida Gators first-year Head Coach Dan Mullen said that he knows how important this game is for his team and for Gator Nation.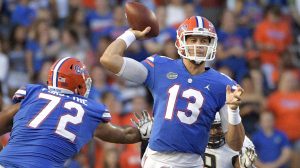 Last Year's matchup
In this game last season, the Gators lost to the Seminoles 38-22. In that game the Gators ran for 96 yards and had 184 passing yards. Last season, both teams entered the game with a 4-6 record. Florida was coached by interim head coach Randy Shannon, and the Seminoles were coached by Jimbo Fisher. Both schools are coming into the matchup with first-year head coaches. The Gators are also looking like a very different team at 8-3, while Florida State has been struggling all year sitting at 5-6.
Last year, the Seminoles had gotten off to an early lead in the first half. Florida State scored on an interception in the first quarter and a fumble in the second by Florida quarterback Feleipe Franks. These touchdowns giving Florida State a 24-7 lead on Florida. The Seminoles did not let go of their lead all game.
Gators offense had trouble offensively all year long, and it showed in this rivalry matchup last season. Franks finished the game with 184 yards, two touchdowns and was sacked 5 times. While Florida State's quarterback last season, James Blackman, threw for 128 yards and two touchdowns but their defensive touchdowns proved to be a big factor in their win.
Preparing for the Seminoles
Mullen said that the Seminoles can definitely cause the Gators some issues on Saturday. According to Mullen, FSU's win last weekend against Boston College showcased some big playmakers on FSU's offense.
Florida had a much needed win last weekend for their last game in Gainesville this season. In Florida's 63-10 defeat against Idaho, they had 600 offensive yards and were 6/12 in third-down conversions with their defense adding two touchdowns of their own. However, Florida State this week is going to be a much different challenge for the Gators.
Defensive end Brian Burns is one player with a lot of talent on the Seminoles roster. Burns has 48 tackles, 6 sacks and 10 tackles for loss this season. Feleipe Franks said that his offensive line will have to prepare for him harder than they have prepared all season.
Florida wide receiver Josh Hammond said that he hopes last week's momentum will carry over going into a big game this week.
Moving Forward
The Gators and the Seminoles will kickoff at noon on Saturday. Mullen said that he hopes his team pulls out a win and that a win could carry over positive energy for his team going into next season.